Best Online Geometry Tutors in 2023, Reviewed by a Student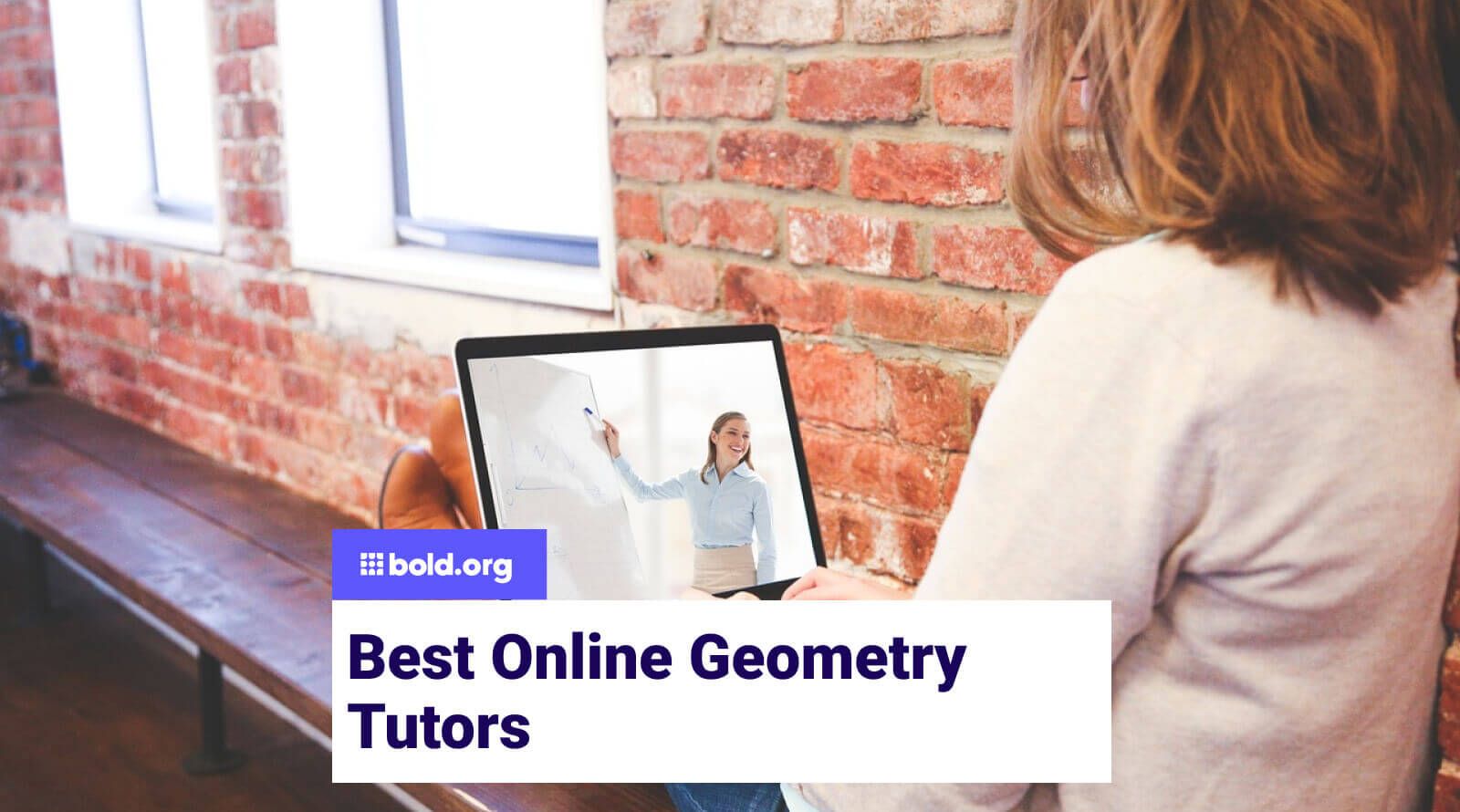 Top scholarships with upcoming deadlines
Geometry got you feeling like a square peg in a round hole? Fear not! The world of online geometry tutors is here to save the day. Say goodbye to boring lessons and hello to personalized instruction, homework help, and exam preparation tailored just for you. These top-notch online tutors are equipped to guide you through the complexities of geometry, no matter your age, ability, or learning preference, so you can ace those shapes and angles.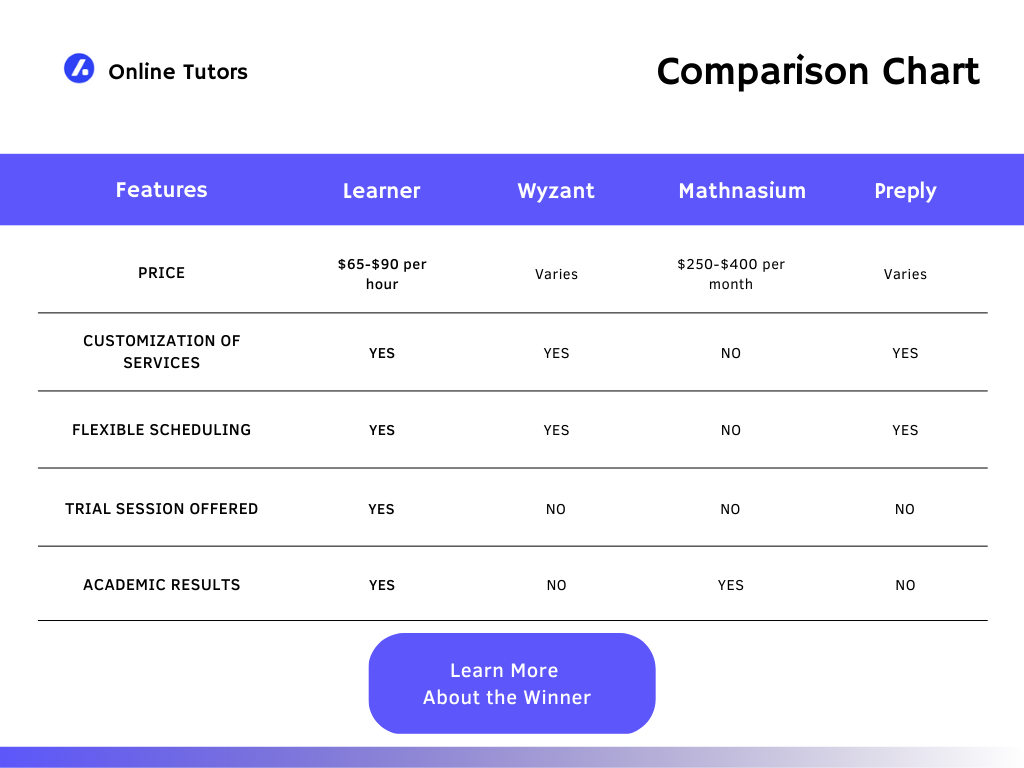 💡
TLDR: Learner.com earns the #1 spot as our Best Online Math Tutor.
This Bold article is packed with the best geometry tutoring services to make geometry formulas a breeze. And while you're here, take a spin on Bold.org's Scholarship Search feature to uncover math scholarships you can apply for!
With years of experience teaching geometry to students from various backgrounds and age groups, Learner tutors have the expertise and skills to assist you in achieving your goals. Why wait? Book your first geometry tutoring session with Learner today!
Best Online Geometry Tutoring Services
Online geometry tutors are individuals or companies that offer tutoring services over the internet. They offer personalized instruction, geometry homework support, or exam preparation for students of all ages and abilities. The top online tutors make geometry lessons accessible, adapting to your preferred method of learning.
This list features the top-rated online geometry tutoring services, ensuring that each is a trustworthy company providing exceptional geometry tutoring experiences. The list offers diverse options for all those seeking online geometry tutoring, regardless of age, ability, learning style, and budget.
Get Matched to Thousands of Scholarships
Create your Bold.org profile to access thousands of exclusive scholarships, available only on Bold.org.
Create Free Profile
Learner
At Learner, the success of students and educational professionals is the top priority. The goal is to transform education and empower learners at all levels. They offer a diverse array of tutoring services to meet the needs of all students. The company was founded by a group of educators with a passion for education and student success.
A private geometry tutor from Learner will provide mastery of the material, better grades and test scores, and effective college preparation. If your coursework involves geometry topics, Learner can help you gain the skills necessary to learn geometry. Their exclusive matching service considers your specific educational requirements and personality to find the right tutor for them.
To ensure the best possible tutoring experience, Learner's tutors undergo a rigorous selection process, including thorough screening and evaluation. This ensures that each tutor has deep subject knowledge and the ability to connect with and motivate students in a remote learning environment.
Finding the right geometry tutor at Learner is easy with their personalized tutoring plan. Simply complete a brief questionnaire, and they will match you with the best online geometry tutors. Before you start your trial, you have the opportunity to speak with an Education Expert on the phone to address any questions or concerns you may have. While Learner's tutors specialize in various subjects, the platform's primary focus is math-based.
Achieving success just got easier. Get one-on-one tutoring and achieve your goals with confidence. Book now!
Learner Geometry scholarship
The Learner Geometry Scholarship is an annual award of $500 for students currently studying or planning to study mathematics. Check the qualifications to see if you qualify for Learner's Geometry Scholarship!
Discover which scholarships you're eligible to apply for right now by signing up here!
Chegg
Chegg is a reasonable choice for online geometry tutoring whether you need help with college math courses or high school geometry. Students who join Chegg can participate in an unlimited number of live classes and get access to a database of previously completed homework questions. Chegg wants to increase the value of education by helping students learn more effectively, more quickly, and more affordably.
Chegg offers tutoring around the clock. Therefore, you may quickly find a Chegg math tutor to assist you if you're up late working on your high school geometry and are stuck on a difficult problem. You can easily connect with an online tutor if you have a quick question you need to be answered. Chegg offers a variety of resources for students to use in their coursework.
Chegg offers personalized tutoring, videos, books, and flashcards online so that you may study geometry. With a membership, students can search through millions of previously solved questions and answers to homework.
To provide college students with an economic platform for renting textbooks, Iowa State University students launched Chegg in 2005. Chegg and American Forests teamed up in 2009 to plant trees for each textbook rented in an effort to protect the environment. In 2014, Chegg started providing tutoring services. Learn more about Chegg's past to better comprehend the company's vision and mission, and offerings.
Transform your geometry skills with personalized online tutoring. Sign up today to start learning smarter, not harder!
Wyzant
You have the option of meeting geometry tutors in person or online at Wyzant, and you can choose how much you spend and who you study with. You can choose your payment method, save money, and gain knowledge! You can use Wyzant's tutor search option to look for the best tutors to meet your needs by entering the subject you need assistance with. With Wyzant's Good Fit Guarantee, your first class is free if you weren't completely satisfied.
Wyzant tutors bill by the hour and determine their own rates. You simply pay for the time you use; there are no subscriptions or upfront payments required. Visit a tutor's profile on Wyzant to learn more about their specialties, rules, and availability.
Wyzant also offers a library of free articles for students to reference. You can test out their Online Learning Tool beforehand to see how well it supports collaboration.
You can download your whiteboards from geometry tutors who use the Online Learning Tool so you can refer to them later. Wyzant also has a recording option that can be accessed via the app or website. With Wyzant, you can pick a math teacher based on feedback and ratings from previous students, plan lessons at times that work for you, and access many free resources without paying a subscription.
Get ready to ace geometry with a smile! Chegg online tutors are here to help you conquer triangles, circles, and everything in between. Book a session today!
Varsity Tutors
Varsity Tutors' mission is to help students learn, and their vision is to seamlessly connect teachers and students across all subject areas, anywhere and at any time. Varsity Tutors is committed to matching students with outstanding tutors who can deliver top-notch instruction.
Tutors personalize lessons to each student's needs, presenting information and ideas in a fun and simple way that keeps learners engaged and on track for academic achievement. Varsity Tutors help you identify tutors who meet your needs.
Varsity Tutors was created based on the educational journey of their founder and CEO, Chuck Cohn. During high school, he improved from an F to an A+ in honors geometry through private tutoring.
After connecting geometry tutors and students, Varsity Tutors' unique Live Learning platform enhances online education on desktop or mobile devices. It combines video chat, interactive tools, and collaborative workspaces to deliver the advantages of in-person tutoring. Any time, in any subject, a student can instantly contact a tutor for assistance.
A master of angles, a genius of graphs, your tutor will lead you to geometry's grasp. Book a session today!
The Princeton Review
Students and their families have relied on The Princeton Review for more than 40 years to assist them in getting into their top universities. Their goal is to give students individualized, cutting-edge, top-tier private tutoring, test preparation, and admission products and services that will enable them to overcome obstacles and succeed academically.
The Princeton Review's services are tailored to meet each individual's unique requirements. Whether you opt for personalized one-on-one tutoring or prefer their adaptive online products, everything they offer is designed to provide customized support and address students' specific needs.
Tutors can also provide worksheets and recommend tools for students to review their learning. Students can add geometry tutors to a Favorites List to see when they are available to meet for another session.
Regular communication and progress tracking are crucial components of a successful tutoring experience. Families can schedule regular meetings with a tutoring manager to assess progress, set goals, and address any questions related to test preparation, college admission, and tutoring progress. Their innovative apps provide a convenient and efficient way to coordinate sessions and monitor progress.
Don't let confusion hold you back; join The Princeton Review on this mathematical journey today!
Who Needs Math Tutoring?
Math tutoring is beneficial for individuals of all ages and skill levels. A geometry tutoring session provides a valuable opportunity for students to improve their understanding and mastery of the subject. Geometry, like calculus and trigonometry, is a fundamental branch of mathematics that teaches important concepts such as spatial reasoning, measurement, and problem-solving skills.
Seeking help from a geometry tutor can greatly enhance comprehension of the subject. It's important to note that seeking assistance is not a demonstration of weakness but rather a proactive approach to taking control of one's education and advancing one's skills.
How to Choose an Online Geometry Tutoring Service
Selecting an appropriate online geometry tutoring service can be overwhelming, especially when uncertain about what to consider. To aid you in finding the best fit, here are a few crucial elements to take into account:
Determine your needs: Think about your learning practices, the specific areas of geometry you need support with, what you aim to achieve, and your schedule when choosing an online geometry tutoring service.
Consider the platform and technology: Ensure the tutoring service utilizes a trustworthy, secure, and user-friendly platform. Verify that the service has features such as video conferencing in real-time, virtual whiteboards, and the ability to download or share files.
Evaluate the cost: Research the cost of various tutoring services and ensure you understand what you're paying for. Some services may offer bundle deals or reduced prices for extended commitments.
Schedule a trial session: Many online tutoring services provide a free trial session, so make use of this chance to interact with a tutor and assess the platform. Ensure you are satisfied with the tutoring platform and the tutor's teaching approach to determine if they can assist you in reaching your objectives.
How to Choose the Right Online Geometry Tutor
Before selecting the best online geometry tutor, you must clearly understand your goals and priorities. Determine what you aim to gain from tutoring - is it a long-term improvement or occasional help with assignments? Having a clear idea of how often you plan to have tutoring sessions will help you choose a platform that meets your needs.
For the best tutoring experience, consider Learner. They offer highly qualified geometry tutors who not only have a deep understanding of math subjects but are also seasoned educators. Learner matches you with a tutor whose teaching approach aligns with your preferred learning style, ensuring a successful tutoring experience.
Frequently Asked Questions About Online Geometry Tutoring
How much are online geometry tutoring services?
The price of online geometry tutoring services can vary significantly based on a number of variables, including the tutor's experience and credentials, the tutoring platform or business, and the number and length of tutoring sessions. Research tutoring platforms and the tutors that work on the platforms to determine your geometry tutor cost.
Online tutoring services might cost anything from $30 to $100 or more per hour on average. While some platforms provide one-time sessions or package deals, others may offer subscription-based models that let students pay a monthly price for a set number of tutoring hours. Find an online geometry tutor who meets your demands and budget by doing some research and comparing different possibilities.
What are the pros of using online geometry tutoring services?
Whether in middle school, high school, or college, online tutoring enables geometry students to receive guidance from any location that suits their learning style. Being in a comfortable and distraction-free environment can enhance their ability to retain math formulas and concepts more efficiently.
Check out the Learner Math Lover Scholarship to maximize your savings for college education, or look at Bold's Scholarship Blog to discover more information about tutoring!