Best Music Schools in the US
College
September 21, 2023
10 min read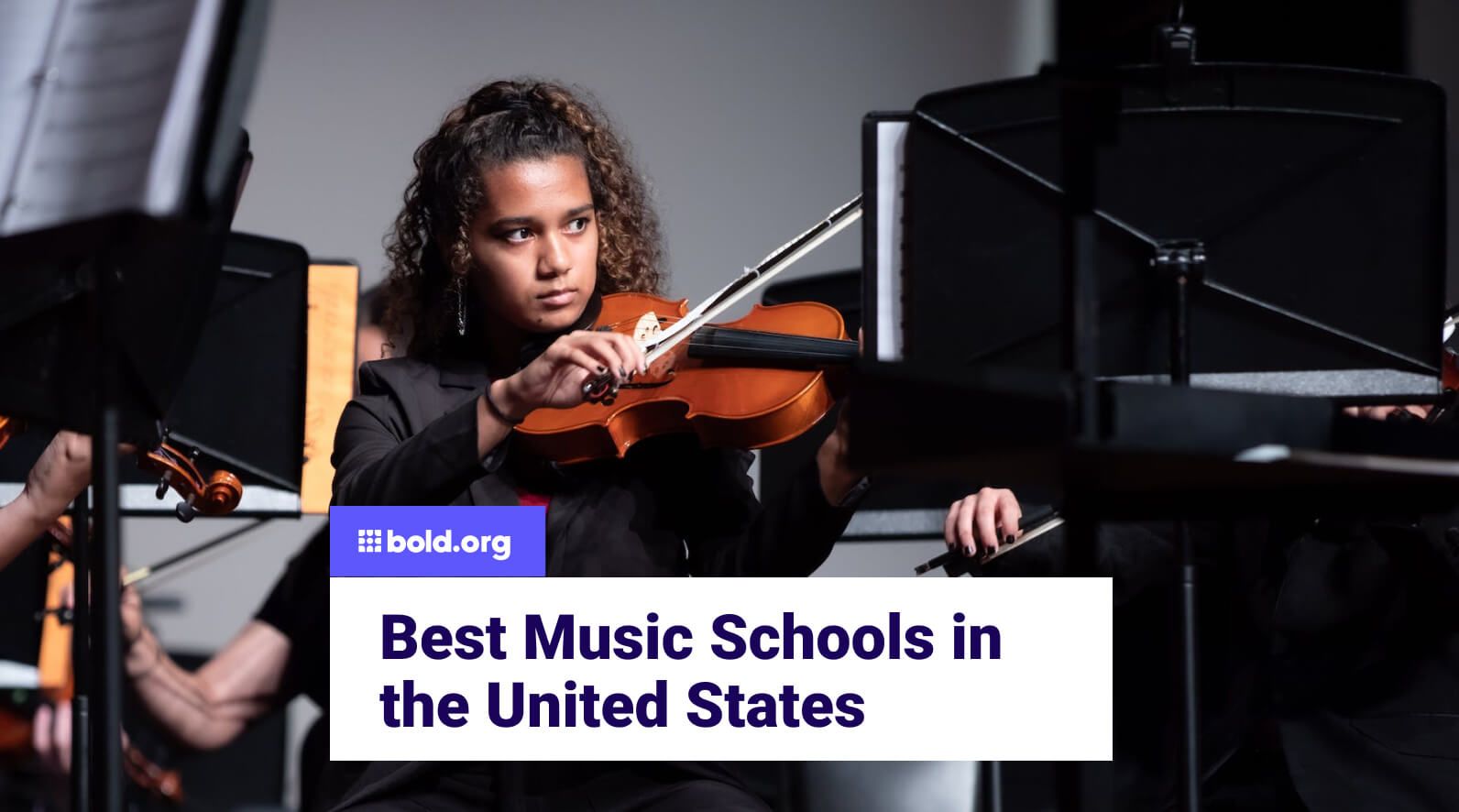 Top scholarships with upcoming deadlines
Music is a universal language that transcends borders and brings people together. Whether you dream of becoming a virtuoso pianist, a renowned conductor, a music educator, or a sought-after composer, attending a prestigious music school in the United States can provide you with the training and knowledge you need to succeed.
Top music schools in the United States have a long history of producing exceptional musicians, composers, and scholars. In this comprehensive guide from Bold.org, we'll explore some of the best music schools in the US. From the illustrious Juilliard School in New York City to the innovative Berklee College of Music in Boston, we'll take an in-depth look at the best colleges and institutions that shape the future of music in America.
Higher education comes at a hefty price tag, and music schools, in particular, can cost more than the average college tuition. Applying for music scholarships can help reduce the cost of your music education and make prestigious music schools more accessible.
Create a free Bold.org profile today to start browsing and applying to hundreds of exclusive scholarships.
Best Music Schools in the US
Located in the heart of New York City, The Juilliard School is practically synonymous with excellence in the performing arts. Founded in 1905, Juilliard is one of the world's most prestigious music schools, with a reputation for producing top-tier musicians, actors, and dancers.
One of the hallmarks of The Juilliard School is its unparalleled faculty, consisting of some of the world's most renowned musicians, actors, and dancers. Students have the unique opportunity to receive instruction and mentorship from these distinguished artists who bring their wealth of knowledge and experience to the classroom and the rehearsal studio.
Juilliard's location in the heart of Manhattan offers students an unrivaled advantage regarding performance opportunities. The school's proximity to world-class venues, such as Lincoln Center, Carnegie Hall, and the Metropolitan Opera House, provides students access to the global stage. Juilliard students regularly perform in these iconic venues, allowing them to hone their craft and gain valuable exposure to the public and industry professionals.
Furthermore, being situated in New York City, the epicenter of the performing arts world, Juilliard offers unparalleled networking opportunities. A thriving artistic community surrounds students, and they have access to a vast network of alumni who have achieved remarkable success in their respective fields. Connecting with musicians in ensembles such as the New York City Philharmonic or the Lincoln Center Jazz Orchestra inspires Juilliard students to hone their craft.
A degree from The Juilliard School is not just a qualification; it's a passport to a successful career in the performing arts. Juilliard's most notable alumni include luminaries such as Yo-Yo Ma, Itzhak Perlman, and Sarah Jessica Parker. The institution's name carries tremendous weight and opens doors in the competitive world of music and the arts.