Best Medical Schools in Pennsylvania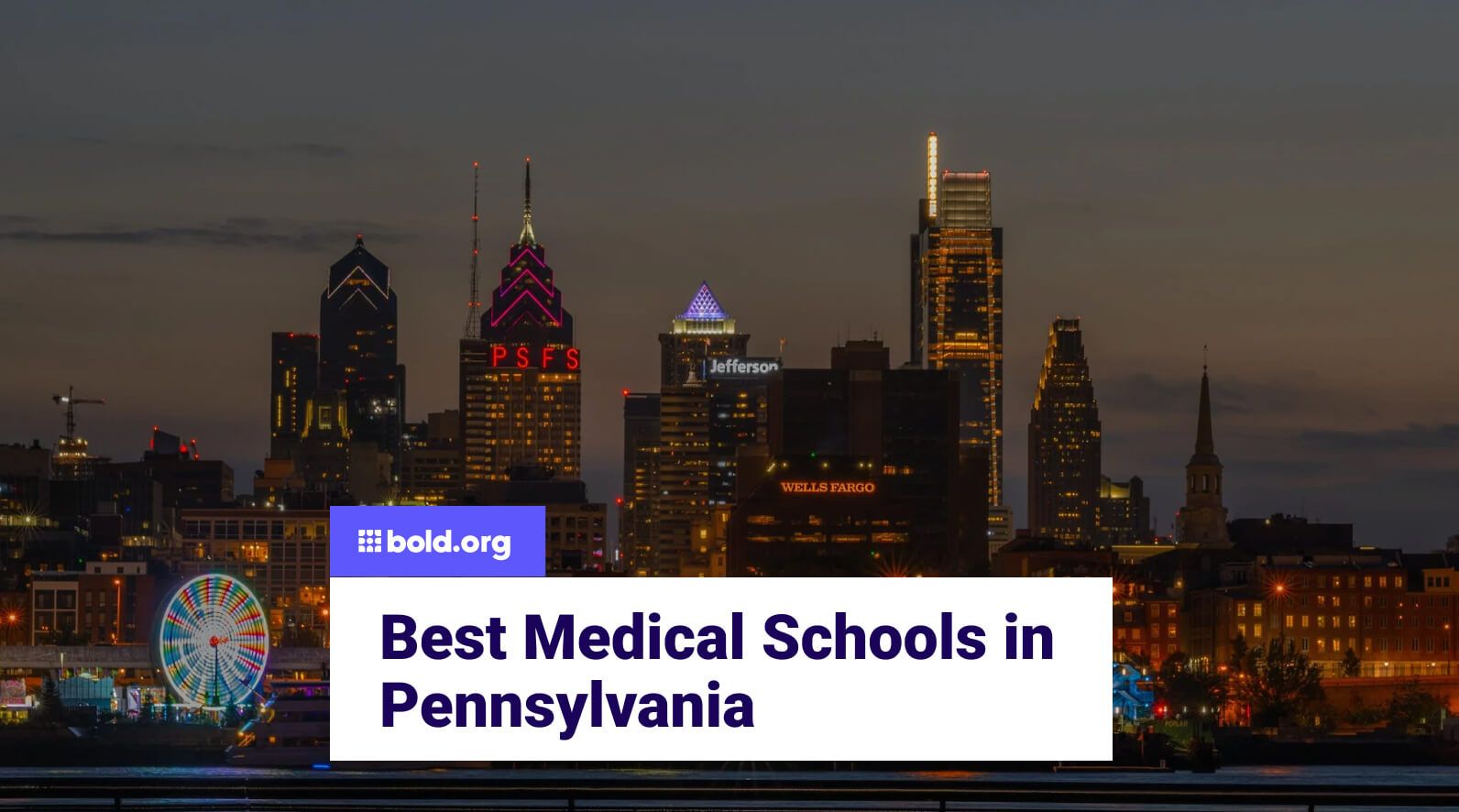 Top scholarships with upcoming deadlines
Choosing the right medical school is a pivotal step in the journey to becoming a healthcare professional. The medical school you attend sets the foundation for your education, shapes your clinical experiences, and influences the trajectory of your healthcare career. With its rich history of pioneering medical advancements, the state of Pennsylvania is home to some of the finest medical institutions in the United States.
In this comprehensive guide from Bold.org, we'll delve into the world of medical schools in Pennsylvania. Each institution possesses unique strengths and a shared dedication to training the next generation of physicians. Whether you're drawn to cutting-edge research, a focus on community health, or the holistic approach of osteopathic medicine, the Keystone State's medical schools have something exceptional to offer.
Paying for medical school tuition is a common concern among aspiring doctors. With the cost of medical education rising each year, it's no surprise that many future physicians take on student loan debt to fund their medical degrees. Applying for scholarships is one way that you can reduce your student loan debt and make your medical education more accessible.
Create a free Bold.org profile to browse and apply for dozens of medical school scholarships! And don't forget to check out our scholarship blog to learn more about the best medical schools in other states!
Top 8 Medical Schools in Pennsylvania
The University of Pennsylvania Perelman School of Medicine, often called Penn Med, is an illustrious institution with a rich history spanning over two centuries. Established in 1765, it is one of the oldest medical schools in the United States and has consistently held its place among the nation's top medical education and research institutions.
Penn Med's reputation for academic excellence is well-deserved. The school boasts some of the most accomplished and respected educators and researchers in medicine. Many of its faculty members are leaders in their respective disciplines, making Penn Med an ideal place to learn from the best.
Research is a cornerstone of Penn Med's identity. The school consistently ranks among the top medical research institutions in the country, with a robust commitment to advancing medical knowledge. Its research programs span various fields, from basic sciences to clinical and translational research, ensuring that students have access to groundbreaking medical discoveries.
Furthermore, clinical training at Penn Med is exceptional. The school is affiliated with the Hospital of the University of Pennsylvania (HUP) and the Children's Hospital of Philadelphia (CHOP), both renowned for their excellence in patient care. These affiliations provide Penn Med students with unparalleled opportunities to apply their knowledge in real-world clinical settings, learn from experienced healthcare professionals, and engage in patient care.
Get Matched to Thousands of Scholarships
Create your Bold.org profile to access thousands of exclusive scholarships, available only on Bold.org.
Create Free Profile
Drexel University College of Medicine, situated in the heart of Philadelphia, is a prominent medical institution renowned for its unique approach to medical education, commitment to community health, and dedication to global outreach. With a focus on preparing healthcare professionals who are deeply compassionate and socially responsible, Drexel University's medical school stands out as a beacon of innovation and service in medicine.
One of the standout features of Drexel Med is its innovative curriculum. The school embraces a holistic approach to medical education, emphasizing early patient interaction and problem-based learning. This approach ensures that students not only master the scientific foundations of medicine but also develop the critical thinking skills and clinical acumen necessary for modern medical practice.
Drexel Med students can interact with patients from the early stages of their education. This hands-on experience fosters empathy, communication skills, and a deeper understanding of patient needs. Furthermore, the problem-based learning curriculum encourages students to actively engage in problem-solving, critical thinking, and collaborative learning, preparing graduates to adapt to the evolving healthcare landscape.
Medical students at Drexel Med also benefit from the school's strategic location in Philadelphia, a city with a diverse patient population and a wide array of clinical settings. The school has affiliations with some of the region's top healthcare institutions, providing students with extensive clinical training opportunities.
For example, Drexel's "Frontier Program" takes students to underserved urban and rural areas for clinical rotations. This unique program equips future physicians with the skills needed to address healthcare disparities in communities with limited access to care.
Penn State University College of Medicine, located in Hershey, Pennsylvania, is an esteemed medical institution known for its strong commitment to education, research, and healthcare delivery. Established in 1963, it has steadily grown into a leading medical school, offering a comprehensive medical education program that prepares students for careers in various medical specialties and research disciplines.
The school offers a modern, competency-based curriculum integrating basic sciences, clinical skills, and early patient interaction. This approach provides students with a solid foundation in medical knowledge and clinical expertise.
Students benefit from clinical training experiences at Penn State Health Milton S. Hershey Medical Center, an academic medical center renowned for its high-quality patient care. The medical center provides various clinical specialties, ensuring students receive diverse and comprehensive training.
Furthermore, the school is known for its contributions to medical research, focusing on areas such as cancer research, neuroscience, infectious diseases, and public health. Students who aspire to engage in medical research as part of their medical careers will find a supportive environment for their scholarly pursuits.
Browse these Pennsylvania scholarships to help alleviate the costs of college!
The University of Pittsburgh School of Medicine (Pitt Med) is a distinguished institution with a rich history of excellence in medical education, research, and clinical care. Founded in 1886, Pitt Med has consistently ranked among the top medical schools in the United States and is renowned for its commitment to advancing healthcare through innovative research and exceptional medical training.
The school is a powerhouse of biomedical research, consistently receiving significant funding and recognition for its research endeavors. Students have access to cutting-edge facilities and the opportunity to engage in groundbreaking research projects across a wide range of medical disciplines.
The school is home to several prestigious research centers and institutes, including the University of Pittsburgh Cancer Institute, the Brain Institute, and the McGowan Institute for Regenerative Medicine. These centers provide students with unparalleled opportunities to engage in cutting-edge research and contribute to groundbreaking discoveries.
Furthermore, as part of the University of Pittsburgh Medical Center (UPMC), one of the nation's leading healthcare systems, Pitt Med provides students with extensive clinical training experiences. Pittsburgh's diverse patient populations and clinical settings offer students a comprehensive view of healthcare delivery.
Sidney Kimmel Medical College, formerly Jefferson Medical College, is a prestigious institution in the heart of Philadelphia, Pennsylvania. Established in 1824, it boasts a rich tradition of medical education, research innovation, and a commitment to producing compassionate and skilled healthcare professionals.
One of the hallmarks of Sidney Kimmel Medical College is its innovative and student-centered curriculum. The school has adopted a problem-based learning approach, where students actively solve clinical problems from the beginning of their education. This method fosters critical thinking, teamwork, and early clinical exposure.
Furthermore, Sidney Kimmel Medical College strongly emphasizes clinical skills training. Students benefit from a dedicated Clinical Skills and Simulation Center, where they can hone their diagnostic and procedural skills in a controlled environment. The curriculum provides opportunities for students to interact with patients, gaining valuable insights into the human aspect of medicine, which recognizes the importance of early patient interaction.
Geisinger Commonwealth School of Medicine (Geisinger Commonwealth) is a relatively new but innovative addition to the Pennsylvania medical education landscape. Established in 2008, this medical school has rapidly gained recognition for its unique approach to medical education, with a strong emphasis on community engagement, rural healthcare, and a commitment to addressing healthcare disparities.
Geisinger Commonwealth offers a distinctive integrated curriculum combining basic science education with clinical experience from the beginning of medical training. The school places a significant emphasis on early clinical exposure, allowing students to interact with patients and healthcare teams at an early stage. This approach ensures that students develop a solid foundation in medical knowledge while honing their clinical skills and understanding of patient care.
The school's location in Scranton, Pennsylvania, provides access to a diverse patient population and clinical settings, including rural and underserved communities. This exposure prepares students for a wide range of clinical experiences and underscores the importance of providing healthcare in various settings.
In fact, one of the defining features of Geisinger Commonwealth is its dedication to training physicians for rural and underserved areas. The school acknowledges the unique healthcare needs of rural populations and equips students with the skills and knowledge to address those needs effectively. The institution actively engages with the local community and provides healthcare services to underserved populations, and this commitment to community health is integral to its mission.
Philadelphia College of Osteopathic Medicine (PCOM) is a well-established medical school with a rich history of producing skilled and compassionate osteopathic physicians. Founded in 1899, PCOM has remained dedicated to the osteopathic principles of whole-person healthcare, emphasizing the interconnectedness of the body, mind, and spirit in the practice of medicine.
PCOM is deeply rooted in the osteopathic tradition, which strongly emphasizes holistic patient care. Osteopathic physicians, or DOs, are trained to consider not only the physical aspects of health but also their patients' psychological and social well-being. This patient-centered approach sets PCOM apart in the field of medical education.
PCOM students receive specialized training in Osteopathic Manipulative Medicine, a hands-on approach that involves using the hands to diagnose, treat, and prevent illness or injury. OMM is a distinctive feature of osteopathic medical education and reinforces the school's commitment to whole-person care.
PCOM also allows students to pursue dual-degree programs, allowing them to earn additional qualifications alongside their Doctor of Osteopathic Medicine (DO) degree. Options may include a Master of Public Health (MPH), a Master of Business Administration (MBA), or other advanced degrees.
Lake Erie College of Osteopathic Medicine (LECOM) is a renowned institution that has become a leader in osteopathic medical education since its establishment in 1992. With its main campus in Erie, Pennsylvania, and additional campuses in Bradenton, Florida, and Elmira, New York, LECOM offers diverse programs and a commitment to producing skilled osteopathic physicians, pharmacists, and dentists.
LECOM students receive specialized training in Osteopathic Manipulative Medicine, a hallmark of osteopathic medical education. This hands-on approach involves using the hands to diagnose, treat, and prevent illness or injury, reinforcing the school's commitment to whole-person care.
Many osteopathic physicians choose careers in primary care, such as family medicine, internal medicine, and pediatrics. LECOM's curriculum reflects this emphasis on primary care, preparing students to meet the healthcare needs of diverse patient populations. Students can earn their DO degree through two different pathways at LECOM:
Traditional Pathway: This pathway provides a four-year DO program for students who have completed their bachelor's degree.
Three-Year Primary Care Scholars Pathway: Designed for highly motivated students, this accelerated program allows them to complete their DO degree in three years.
Check out the best medical schools in the U.S. to weigh your options!
Frequently Asked Questions About Medical Schools in Pennsylvania
What are the prerequisites for medical school in Pennsylvania?
While specific prerequisites may vary between schools, typical requirements for medical school admission in Pennsylvania include a bachelor's degree with a strong emphasis on science courses such as biology, chemistry, and physics. Most schools also require the Medical College Admission Test (MCAT) scores, letters of recommendation, and a competitive GPA.
Check out this blog post to read more about medical school prerequisites or browse this one for the best premed schools!
How competitive is it to get into medical school in Pennsylvania?
Admission to medical schools in Pennsylvania is highly competitive. The acceptance rates vary by institution, but it's common for medical schools to have acceptance rates below 10%.
Are there any financial aid options available for medical students in Pennsylvania?
Yes, many medical schools in Pennsylvania offer financial aid packages, including scholarships, grants, and loans. Additionally, some schools have programs that support students pursuing primary care or who commit to practicing in underserved areas. Prospective students should explore the financial aid options offered by each school and consider applying for external scholarships and grants, including healthcare scholarships, on Bold.org!
Now that you understand which Pennsylvania medical schools belong on your school list, you're ready to start your medical school application journey! Check out more blog posts like this one on our Scholarship Blog, and don't forget to create a free Bold.org profile to start applying for hundreds of scholarships.