Best Colleges in Florida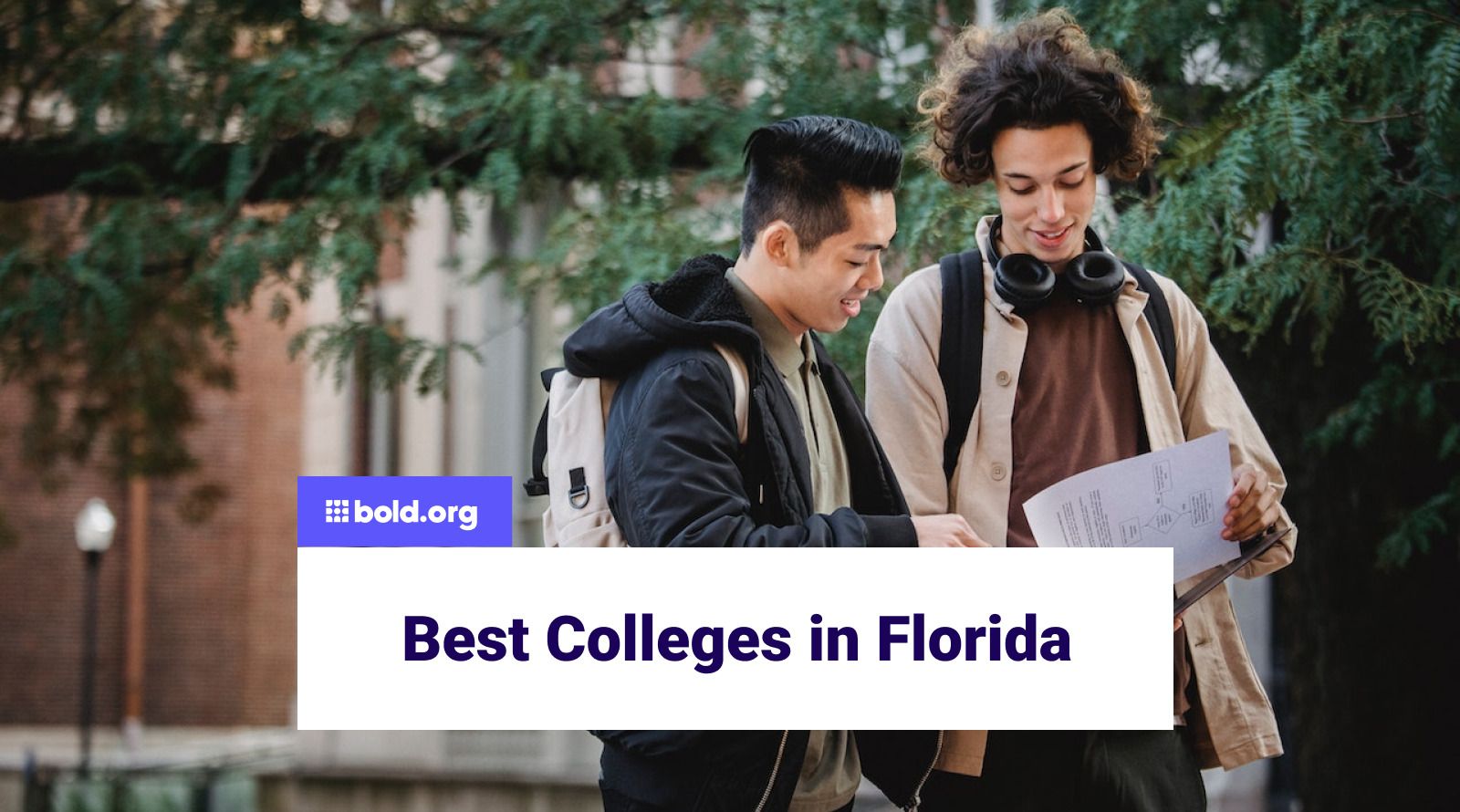 Top scholarships with upcoming deadlines
Florida is one of the most popular destinations for college students. In fact, in 2022 Florida had the fourth-highest number of enrolled college students out of all fifty states. This is because not only does the state have the appeal of sunshine, beaches, and Disney World, but it is home to many accredited colleges and universities where students can obtain a college degree.
Florida has over 20 community colleges and over forty public and private universities, making it a major hub of education from Nova Southeastern University in Fort Lauderdale to Embry Riddle Aeronautical University in Daytona Beach. All throughout Florida there are accredited universities that offer a variety of degree programs for all kinds of students.
Many Florida schools boast a diverse student body and access to a great education and opportunities. Researching which school is best for you can come down to a number of factors including, location, education, cost, etc., and it is important to consider all aspects of your personal needs as you apply.
For those who are interested in finding a Florida institution where they can pursue all of their educational goals, check out the lists below to find the best Florida school for you.
Get Matched to Thousands of Scholarships
Create your Bold.org profile to access thousands of exclusive scholarships, available only on Bold.org.
Create Free Profile
Methodology
A quick search for the best colleges in Florida yields a near infinite number of results, which can be overwhelming for students looking to attend college in Florida. Fortunately, we have made this researching process easier by looking through these search results for you.
The lists on this page are made from looking at multiple collegiate ranking websites to see which colleges are consistently ranked as the highest overall. Read on to see what schools offer the top programs across a variety of disciplines.
Best Public Colleges in Florida
Florida is home to a number of public institutions. Not only is there a state college system made up of twelve different schools, but there are also a number of other public universities, like Florida International University or Florida Atlantic University. Many public Florida colleges offer a diverse student body, a beautiful landscape, and an excellent education from Fort Lauderdale to Tallahassee.
University of Florida
With a 31% acceptance rate, the University of Florida is a competitive school ranked as the fifth best public university by US News and World Report. It has an undergraduate enrollment of nearly 35,000 students that can choose from over 100 distinct degree programs. The university is home to sixteen different schools and has a student to faculty ratio of 17:1, giving students access to a more personal education despite the large school size.
Florida State University
Florida State University currently imbues nearly 37,000 students with a phenomenal education. The university offers 103 undergraduate degree programs as well as 107 master's programs and 63 doctorate programs, providing students with a diverse range of educational opportunities to choose from.
University of South Florida
USF is a public research institute located in the city of Tampa. It is one of the best schools for providing students with social mobility and is a large institute with nearly 50,000 students. The school has 14 distinct colleges and offers both undergraduate and graduate degrees.
Best Community Colleges in Florida
With over 20 accredited community colleges running from north Florida through central Florida and south Florida, picking the right one can be a daunting task. Fortunately, Florida has an excellent community college system, making any institution a great choice. In fact, Lake-Sumter Community College in central Florida was even re-established as a state college in 2012.
Florida Panhandle Technical College
Florida Panhandle Technical College is located in the city of Chipley, Florida and has three extension campuses. Since beginning classes in 1967, the school has grown to offer over thirty programs of study. The school aims to provide its students with a strong educational foundation so that they can confidently pursue professional careers.
McFatter Technical College
MTC is unique in that it is not only a technical school, but it also includes a magnet high school. The school is located in Davie, Florida and offers prospective students a wide range of areas of study to pursue.
Best Colleges for Acting in Florida
Many of the public and private institutions in Florida offer degrees in acting. For instance, Florida International University, Florida Atlantic University, and Florida Gulf Coast University all offer various theater and performing arts degrees.
Each Florida university offers a variety of benefits as well, so as you seek out the best Florida acting program for you, make sure you research your school thoroughly to make sure it is right for you.
Florida State University
FSU's school of theater offers a very competitive acting program. Applicants are required to submit a prescreening supplement of a one page essay about future educational and career goals, a headshot, a theatrical resume, three letters of recommendation, and a video of a one minute long monologue. Accepted students are also required to participate in the school's London Theater Experience during the summer after their second year.
University of Miami
At UM, theater students work alongside professors all year long to help produce a full season of musicals and plays. In addition to a B.A. degree in theater arts, students can also apply to receive B.F.A. degrees in musical theater, theater management, stage management, and design/production.
University of Florida
Undergraduates pursuing performing arts at UF learn from a combination of a conservatory training and an academic curriculum. With small class sizes and intimate instruction for students, this is a great program for students pursuing acting.
Best Colleges in Florida for Business
For the last few decades, business has consistently been the most popular major among undergraduate students in the United States. Similarly, a master's degree in business administration (MBA) is also the most popular graduate degree in the United States. Consequently, almost all universities and colleges in the United States offer business degree programs. Whether you are looking for schools in North Florida, Central Florida, or south , you are sure to find an excellent business program.
University of Florida
UF's Warrington College of Business is one of the preeminent business colleges in the nation. The college offers seven undergraduate degrees as well as several minors and graduate programs that students can study from, making it a major Florida institute for students studying business.
University of Miami
The Miami Herbert Business School offers students a wide variety of programs to pursue their business interests. The school has 2,300 undergraduate students and 900 graduate students as well as an alumni network of over 45,000 that students can take advantage of.
Florida State University
The FSU College of Business offers students 9 majors, 6 master's degrees, and seven PhD programs. Consistently ranked among top schools across the nation, FSU's College of Business is a great place for business majors to pursue their college education.
Best Finance Colleges in Florida
Similar to business, finance is a very popular major. For those interested in pursuing career paths in the business world, finance is a practical degree program to consider. In fact, research has shown that the most popular college major among Wall Street professionals is finance and majors related to finance.
Schools like the University of Florida, the University of Miami, Florida State University, and the University of Central Florida are all known to have excellent finance programs. Each finance program offers its own unique benefits and experiences, so be sure to conduct research on the type of program best for you.
To help with this research on the best colleges in Florida with finance programs, check out this list of great Florida colleges with finance programs for undergraduate students and graduate students.
University of Florida
Students at the University of Florida studying finance will receive a Bachelor of Science in Business Administration-Finance (BSBA–FIN) degree, which develops a strong foundation in business administration with an emphasis on finance.
Florida State University
Students studying finance at FSU's college of business have the benefit of having their department enhanced by the Student Investment Fund and Trading Room, which gives students real experience by training them in financial modeling and portfolio management. Students can then take this knowledge with them as they enter the professional world of business and finance.
University of Miami
The finance department at the University of Miami prepares students with skills that they can use across a wide variety of disciplines and careers. The department recognizes three main components of a finance education: financial management, investments, and financial markets and intermediaries, and seeks to imbue students with a strong foundation in all of these subjects and more.
Best Nursing Colleges in Florida
Following business, health professions, and related fields are the second most popular area of study for students at the undergraduate level. Unsurprisingly then, Florida offers no shortage of schools with nursing programs. In fact, some schools, like Florida International University of South Florida, even offer two nursing programs, one generic and one accelerated.
Since there are several avenues one can take to become a nurse, it is important to conduct research on what type of program best meets your needs. Make sure to read about a school's student body, benefits, opportunities, and more to be sure that it is the right program for you.
For students looking to find the right Florida institute to pursue nursing, this list shows the best colleges in Florida for nursing.
University of Miami
The University of Miami's School of Nursing and Health Studies is the first collegiate nursing program in south Florida. Students have access to world class facilities and the school even has a 91% Nursing licensure exam (NCLEX-RN) first-time pass rate.
University of South Florida
The USF College of nursing has 966 undergraduate students and 885 graduates and a total of 218 faculty members, making a student to faculty ratio of roughly 9:1. The college also boasts nearly 15,539 alumni, giving students access to a vast network of experienced nurses.
University of Florida
The University of Florida's College of Nursing offers students an incredibly strong nursing education, and has been ranked in the top 4% of all baccalaureate-degree awarding nursing schools in the country. UF is also a school that offers both a traditional BSN track as well as an accelerated track for students to consider.
For more information about nursing schools in Florida check out this blog!
Best Marine Biology Colleges in Florida
Florida is known for its many beaches, and as a state surrounded almost entirely by water, it should come as no shock that Florida offers great marine biology degree programs. Whether it's a private institution like the University of Miami in south Florida, or a public one like Florida International University or the University of West Florida above the Gulf of Mexico, studying marine biology at a Florida institute is a great option.
For those looking into academic programs in Florida about marine biology, check out this list for the best colleges in Florida with marine bio programs.
University of Miami
Students who study marine biology at UM receive a strong curriculum of lectures, lab work, and research. The School of Marine, Atmospheric, and Earth Science seeks to imbue its students with knowledge of the marine system, and its biota, ecology, physiology, and genetics in order to take this knowledge into the professional scientific community.
Florida International University
A bachelor's of science in marine biology at Florida International University provides students with a strong educational background in structural and evolutionary developmental biology, physiology, organismal diversity, physical oceanography and ecology. Students can make use of the natural biodiversity of Florida oceans as they prepare to pursue careers in any number of related fields.
Nova Southeastern University
The NSU bachelor's in marine biology gives students access not only to an excellent program, but also to the Guy Harvey Oceanographic Research Center and a marina available to the school where students can conduct research.
Best Colleges in Florida for Psychology
Psychology is one of the top ten most popular majors in the United States and can lead to a variety of career paths, from marketing jobs to mental health professions.
Since psychology is such a popular and increasingly relevant field, plenty of Florida schools offer psychology or psychology-related academic programs, like Florida State University and Florida Atlantic University, both of which offer undergraduate and graduate degrees. Similarly, Nova Southeastern University is a private research institution that offers students the chance to further pursue psychology.
So whether you want to attend Florida State, Florida Atlantic, Nova Southeastern University, or somewhere else, check out this list to see the best universities in Florida that offer degrees in psychology.
University of Florida
The University of Florida's department of psychology gives students a comprehensive education in psychology and neurological sciences. Not only is it committed to excellence, but the school's online psychology program has even been ranked as the second best in the entire nation.
University of Miami
The UM psychology program teaches its students about psychological and behavioral sciences through a combination of lectures, research, work, and community service in order to imbue students with the most advanced education possible. With four separate divisions and over 50 faculty members, UM is an excellent choice for prospective psychology students.
Florida State University
The FSU psychology department emphasizes research excellence, scientific inquiry, great teaching, diversity and inclusion, and a bright intellectual community. For students interested in studying psychology or neuroscience, FSU is a phenomenal option.
Check out the best law schools in Florida or the best medical schools now!
Frequently Asked Questions About Florida Colleges
How many colleges are in Florida?
Florida is home to 28 accredited community and state colleges, all of which are part of the Florida College System. In total, Florida has 40 public colleges and universities, 52 non-profit private universities, and 27 for-profit private universities.
How do I become a resident of Florida for college?
Florida's out-of-state tuition is over four times that of its in-state tuition, so for those out-of-state students interested in attending a Florida institute, becoming a resident may be a good option.
In order to be considered a Florida resident, a prospective student, or the parents of said student should the student be a dependent, must have established and maintained legal residence in the state of Florida for at least twelve continuous months immediately prior to enrollment in any Florida universities or colleges.
Then, applicants to colleges in Florida must submit a statement about the length of residence as well as an indication that this residence is not just temporary for the sake of enrollment, but is rather a true, permanent residence.
By taking these steps, a new student can become part of the in-state student body as a resident of the state of Florida.
Is college free in Florida?
Unfortunately, college is not free in Florida. Like colleges in all other states, the colleges in Florida require certain tuition and fees. However, public colleges in Florida on average have the lowest in-state and out-of-state tuition as compared to other states.
This means that whether you find yourself in Nova Southeastern University in Fort Lauderdale in southeastern Florida, or in Embry Riddle Aeronautical University in Daytona Beach closer to the north, there is a chance your college tuition may be cheaper than the national average.
Is community college free in Florida?
Several states in the United States offer free community college; however, Florida is not one of them. On average, the cost of tuition at community colleges in Florida is $2,580 for in-state students and $9,380 for out-of-state students.
If you are considering attending community college in Florida, be sure to consider these financial factors before joining a student body. If the tuition for college poses too much of a financial burden, consider applying to scholarships to help fund your academic journey.
How much is college in Florida?
For the 2022-2023 school year, the average cost of tuition and fees in Florida for a public four-year institution was $4,463for in-state students and $18,514 for out-of-state students. These are both less than the national average, which was $9,349 and $27,023 respectively.
For private institutions in Florida, the average cost of tuition was $27,381 for the 2019-2020 school year. This is also less than the national average of $45,932.
Interested in learning more about Florida schools? Check out Bold.org's Scholarship Blog!