Philanthropy Ideas for College Students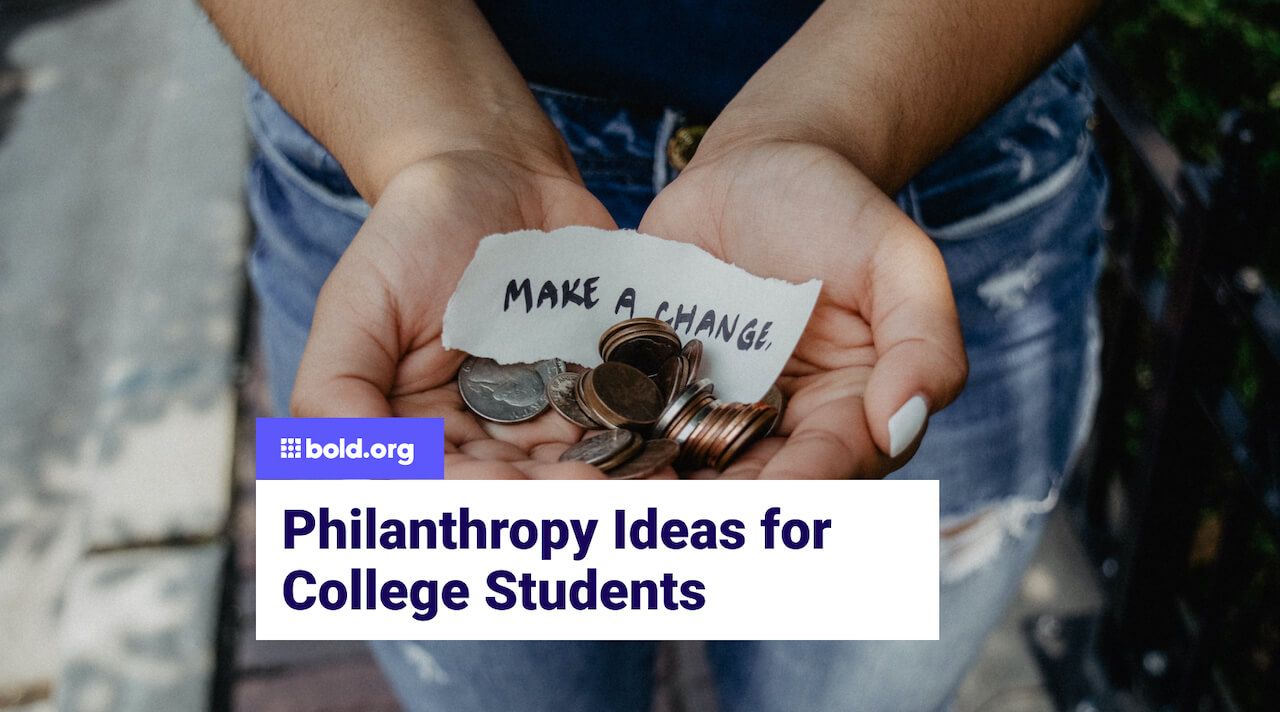 Top scholarships with upcoming deadlines
Do you love helping others? If you want to raise money for others, even if you don't have much money to spare, you can always find a way to give back to your local community or the world. To start raising money, you first must have a cause you're passionate about, whether it's an environmental issue, a political cause, or a disease that needs to be cured.
The next step is to collect or raise money. If you're a college student with a little bit of extra time or money and looking for a way to give back, you can explore philanthropy on and off campus. You can volunteer at a local organization, find a philanthropic club on campus, or donate money, food, or clothing.
One way to give back to other students before or after graduating is by donating your money to a scholarship page to help other students pay for college. On Bold.org, you can easily contribute to a scholarship fund or create your own scholarship on our website.
Get Matched to Thousands of Scholarships
Create your Bold.org profile to access thousands of exclusive scholarships, available only on Bold.org.
Create Free Profile
How can college students fundraise?
If you're looking for college fundraising ideas, you can raise funds in many different ways, either with an organization or by yourself.
Browse through the scholarship blog to find more helpful information for college students.
Host fundraising events
By hosting a fundraising event either by yourself or with a college club, you can sell tickets or have an entry fee to collect some money.
Organize an event like a car wash, bake sale, or benefit dinner to raise money or awareness for your fundraiser. There are also fundraising events such as walk-a-thons, runs, and bike rides which can help people get active for a good cause. To spread the word, you can post online and invite neighbors, friends, and family.
If you are artistically gifted, other college fundraiser ideas include hosting a charity concert or showcase with art or music. Having local or student artists can aid in bringing in potential donors.
While virtual events can be more difficult to organize and get less of a turnout, they can help raise funds from people outside your local community when people cannot turn up in person.
Interested in learning more about donating on Bold.org, check out the Donor's FAQ.
Collect donations
Donations can include money, food, clothing, and much more. If you're a college student with some extra food in your pantry or have some old clothing you want to get rid of, you can donate the items, which is a great way to give back to your community.
You can collect donations from students, friends, and family to help with your cause either online or in person. Local businesses may even be willing to help you by putting up a donation box or giving a portion of their sales to your cause.
You can even ask other students to help with collecting money. Student volunteers can help raise awareness and collect donations from the college community.
If you'd like to collect donations online, you can also accept donations to your fundraiser online through the web or GoFundMe.
What are some charitable ideas?
If you want to do some charity for your school or your local community, you can:
Donate money
If you have some extra cash, donating money to a non-profit organization or a gofundme page is a great way to give back. You can even find a local organization that needs your help
Check out how to set up a memorial scholarship fund to donate in someone's honor.
Volunteer your time in a soup kitchen or homeless shelter
Even if you don't have money, you can donate some of your time to volunteering. By offering support to people in your community, you can have a profound impact.
Donate blankets, gloves, coats, and other warm clothing
Donating items to the Red Cross or other organizations can be super helpful.
Donate blood
If you don't mind needles, giving blood or bone marrow is a great way to help people who are ill or who need help.
Take part in a charity run
If you'd like to exercise for a good cause, charity runs, triathlons or walk-a-thons are a great way to do some charity.
What are good philanthropy events?
If you're looking for an event that will bring in a lot of money, there are plenty of fun events that allow people to donate. Here's a list of some events for you to consider:
Bake sale
If you can get together your friends, a club, or a local organization to help out, a bake sale can be a great way to give people something sweet
Charity Sports Tournament
To raise money, you or a club can host a charity sports tournament. Whether you choose to play basketball, soccer, tennis, or football, you can charge admission into the tournament or charge for tickets to the games.
Interested in creating a scholarship to help fight student debt? Join the Bold.org donors network today!
Hold a raffle or auction
Raffles and auctions are great ways to raise a lot of money. You can ask people or students in your community to donate items. For auctions and raffles, you can also have items that don't cost anything, like a meal with your college's president.
Gala
By hosting a gala and charging admission, you can get a lot of money for your cause. You can also get a great musical guest or artwork to showcase at the event to encourage people to attend.
Seasonal events
If you want to have an event during a certain time of year, you can try hosting a seasonal-themed event. If it's winter, you can do gift wrapping at the mall over the holidays. In the fall, you can host apple picking or a haunted house leading up to Halloween. In the summer or spring, when it's nice, you can host a picnic series in a park or green space with live entertainment.
Frequently asked questions about philanthropy ideas for college students
How can I raise money for college sports?
To raise money for college sports, you can host sports events with a small entry fee that will allow student-athletes to raise funds. Additionally, fundraising events like car washes or sponsoring activities like a walk-a-thon can encourage people to donate.
Creative ways to raise money for college
If you need help raising money for college either for yourself or someone at your university, you can start a gofundme or do an event like a bake sale to raise funds. Furthermore, if you need extra college money, you can apply for scholarships on Bold.org!