Most important factors for choosing a college degree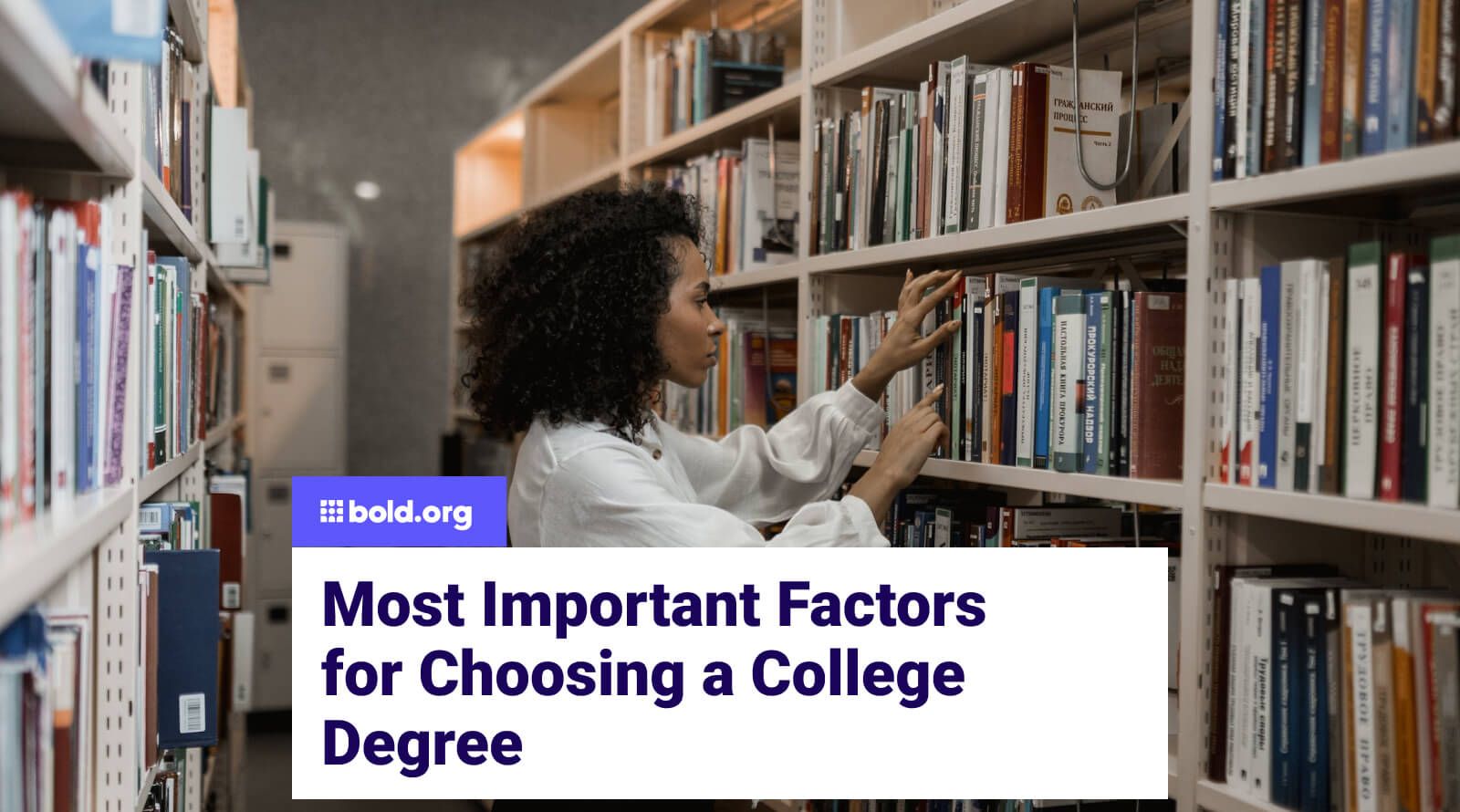 Top scholarships with upcoming deadlines
Most high school seniors find themselves faced with an intimidating decision as they approach significant decisions that may change the course of their lives. By understanding the factors to consider when making such decisions a student will find themselves better equipped to make a decision they will be happy with.
Create a Bold.org profile and use the scholarship search feature to access hundreds of exclusive scholarships.
In a recent survey of prospective college students performed by Sparkroom, students from across the country provided key insights into their college decision-making process. The survey responses varied from location to cost, financial aid, curriculum to campus life, and overall college experience. To help you better understand the thought processes involved with making a decision on which college degree to pursue among numerous academic majors, we have aggregated the responses into four primary buckets.
Get Matched to Thousands of Scholarships
Create your Bold.org profile to access thousands of exclusive scholarships, available only on Bold.org.
Create Free Profile
Four most popular factors to consider
The four most popular factors involved in deciding on college include the following:
Reputation
Flexibility
Cost
Employment
Below you will find a summary of the survey in a graphic form to help you better visualize the impact of each variable in the decision-making process.
Let's dive into each factor to help you make sense of the factors considered by prospective college students from around the country.
How important is a college's reputation?
Reputation of the College or University: Fully 35% of survey respondents believed that a school's reputation was the largest driver in the decision-making and college search process. Let's break this down a bit further to determine what students are really attempting to assess. In other words, is the reputation an intrinsic value or a benchmark set by others?
The reputation of a college can entail degree programs, average class size, academic quality rankings, graduation rate, campus culture, student life, campus environment, quality of residence halls, student organizations, financial aid packages, what college life at the school is like, and how many students attend the school.
To understand what factors affect your school choice, take the time to establish your personal priorities. Some students care more about career services, internship opportunities, and an alumni network, while other students care more about an environment that celebrates sports teams, student life and extracurricular activities, and a vibrant college experience. Once you intimately understand your priorities, you can more accurately assess a school's reputation based on those important criteria.
Read our Complete Guide to College Admissions for more information.
Is flexibility important when considering a college degree?
Flexibility: The notion of flexibility has changed markedly in the past two decades. A primary driver has been the advent of online colleges and online degree programs. Online learning or distance learning, has provided students with a new baseline for college. In other words, there is no longer a singular option to consider.
Even though online learning is the single fastest-growing segment within higher education, more students still prefer the classroom model. Flexibility is the notion of being able to take classes at a time that fits a student's schedule. Cranking up time as time allows and stepping back as competing priorities come into play.
Distance learning or hybrid classes provide this flexibility for students looking to earn a college degree while maintaining a proper balance. To get a broad sense of the ever-changing demographics of college students, visit The Gates Foundation for a unique look at today's students.
How important is the cost of a degree?
Cost: As a surprise to most, the cost is often not the first criterion used in making a decision about college by prospective students. The fact remains that the various grants, scholarships, work-study programs, fellowships, and loans help students bridge this gap as never before. To illustrate this point, private schools of higher education in the United States average a 49% discount off published tuition rates.
The broad-based survey performed by The College Board underscores the net costs involved in attending college today instead of the published sticker prices. When considering the cost of college, it is important to factor in all aspects of attending school. From tuition and parking fees to room and board, it all adds up and must be understood prior to matriculation.
How employable will I be after graduation?
Employment: The fourth most important factor in the survey reveals that 19% of respondents believe employment options after graduation is critical. The fact remains, there is a tight link between education attainment with income and employment. In other words, the more education you have the more money you are likely to make on average with a lower rate of unemployment.
The BLS published a report this year showing this correlation. Specifically, a person earning a bachelor's degree will make more than twice as much as a person with a high school diploma with twice the employment security. This trend holds true for each degree level through graduate degrees with increasing income and decreased unemployment.
Further, the US Census Bureau published a study illuminating the cost of not attending college. One noteworthy piece of data is the following: average annual earnings for a citizen with a high school diploma is $35,615 while someone holding a bachelor's degree will average $65,428 a year. Over a career of 20 years, that translates to a $600,000 difference in income.
Choosing the best college degree for you
At the end of the day, your factors for deciding upon a college degree will be uniquely yours. When considering a college degree to pursue, it is important to remember to be thoughtful, organized, honest, and challenge yourself to attain the best for yourself. Take into consideration the impact your decision will be on the stability of your career, the overall cost of earning that degree, the school's reputation, and how flexible the university is after accepting your offer letter. Make the most of your skills and talents by leveraging education to your benefit. Continued success!
For additional resources, make sure to visit Bold.org and view our scholarships and blog for the latest in college information. Create a Bold.org profile and use the scholarship search feature to access hundreds of exclusive scholarships.
The process is easy and there are hundreds of scholarships available to help provide aid for students like yourself. There are scholarships on Bold.org available for many different majors, and there are also need-based and merit-based scholarships among many other categories. You can also read the Bold.org blog for more articles like this one.