Best Colleges in Texas in 2023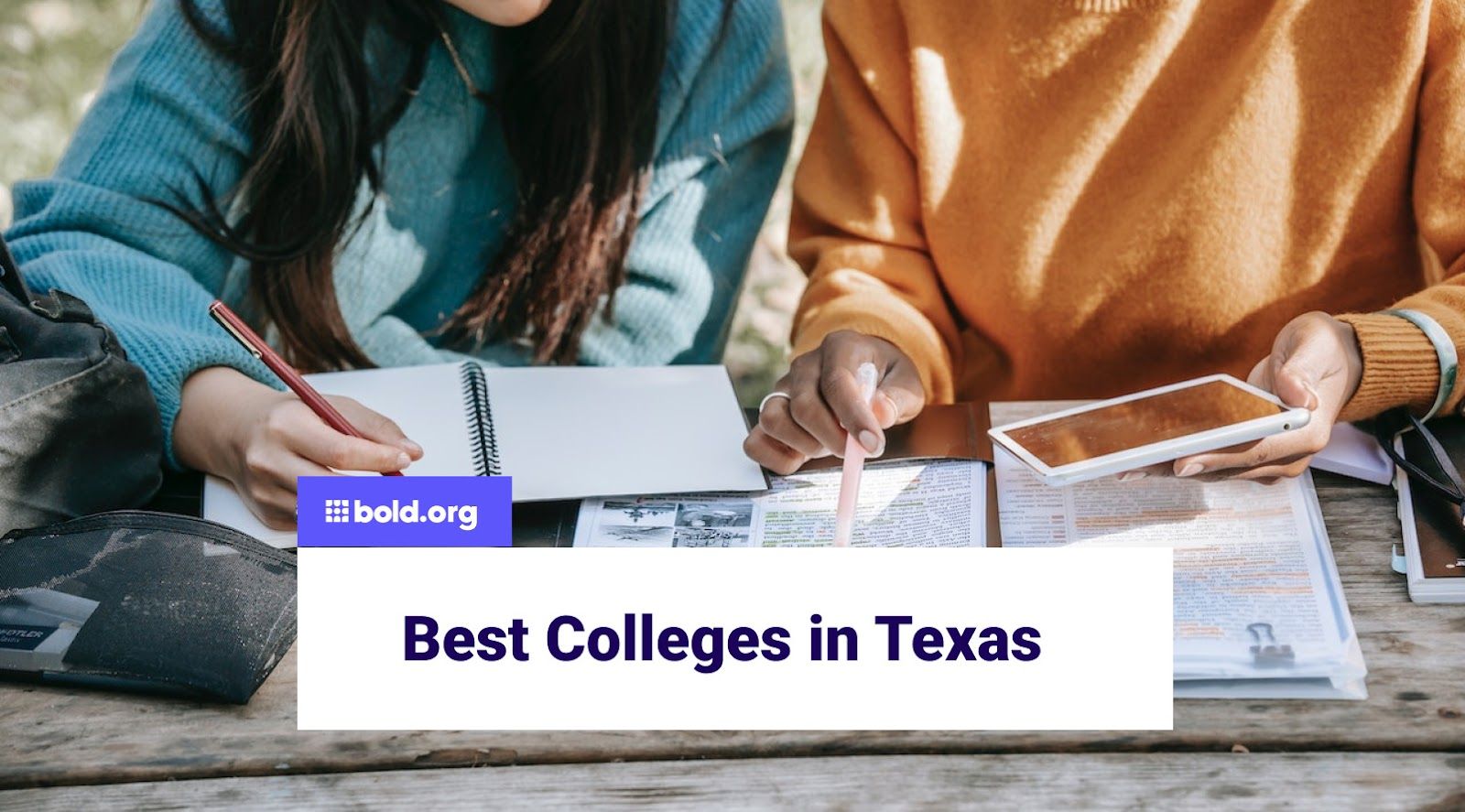 Top scholarships with upcoming deadlines
What gives a school its place as one of the best colleges in Texas ranges based on a multitude of different factors like undergraduate enrollment and student to faculty ratio. As you consider attending a Texas university, it is important to consider all aspects of your school of choice.
There are many different Texas colleges from San Antonio to Dallas. Students can choose to attend anything from a small, private institution like Texas Christian University or Southwestern University to a large public school like Texas Tech University. Thus, Texas students have many choices when it comes to finding the best match for their educational needs.
The following list ranks Texas colleges based on factors like their graduation rate and tuition amount. Also, if you want to check out scholarships in Texas follow the link!
Get Matched to Thousands of Scholarships
Create your Bold.org profile to access thousands of exclusive scholarships, available only on Bold.org.
Create Free Profile
Best public colleges in Texas
#1 The University of Texas at Austin is the best public university in Texas. With a total enrollment of 50,282 students, UT Austin is one of the largest universities in Texas. The school boasts a student to faculty ratio of 19:1 which is under the state average of 22:1.
It also has top programs in engineering, communications, and business. UT Austin has the highest 6-year graduation rate of any public institution in Texas and the lowest percentage of students with student debt.
#2 Texas A&M University at College Station shares the title of Texas's flagship institution with The University of Texas at Austin. Texas A&M is the largest university in Texas with a student enrollment of 65,727.
Texas A&M as College Station is ranked as having the 3rd best value bachelor's degree program in Texas. The university's chemistry program is also ranked 22nd in the world by Shanghai Ranking.
#3 The University of Texas at Dallas is the third best public college in Texas. While UT Dallas has one of the highest average tuition prices of all public colleges in Texas, it has the second-lowest percentage of students with student debt. Only 43.7% of the student body will graduate with debt.
There are 28,669 total students that attend the university. The top major at UT Dallas is in Business, Management, Marketing, and Related Support Services with an undergraduate enrollment of 1,019.
Best community colleges in Texas
#1 Alvin Community College is located in the Gulf Coast region of Texas with a total of 5,591 students. It offers over 50 different academic programs resulting in associate's degrees or technical certifications.
Alvin is ranked one of the top 150 community colleges in the United States by The Aspen Institute. 96% of college students who've graduated from an academic program at Alvin are continuing their education or employed within a year after graduation.
#2 Western Texas College is a small community college located in Snyder, TX. It has the highest percentage of graduates who are employed or enrolled in any Texas community college. This is a great indicator of student success. It also takes students at Western Texas College less time to achieve their associate's degree than at many other Texas community colleges.
#3 Texas State Technical College in Ft. Bend County is the best technical school Texas offers. It has a student-faculty ratio of 12:1 and the highest 3-year graduation rate of any community college in Texas at 54.8%. It is rated as the 4th best value associate's degree in Texas.
Best colleges for business in Texas
#1 The University of Texas at Austin McCombs School of Business is home to excellent undergraduate and graduate programs in business. The McCombs School of Business offers ten different undergraduate majors.
Graduate students have the option of entering one of seven master's programs, an MBA program, or a Ph.D. program. The average salary of students who have graduated with a bachelor's degree in business is $71,267. For MBA students the average salary is $129,854.
#2 The University of Houston C. T. Bauer College of Business. The Wolff Center for Entrepreneurship is ranked the number one undergraduate entrepreneurship program in the United States by The Princeton Review. All of the University of Houston's undergraduate business programs were ranked number one in Texas for total minority degrees awarded in 2019 except for their marketing program which ranked number two.
Bauer College offers seven undergraduate majors as well as a fully online degree program for six of its majors. For graduate studies, they offer 6 online programs and 12 in-person programs.
#3 Trinity University is a small university in San Antonio, TX with a total undergraduate enrollment of 2,506. In addition to being in the historically and culturally rich city of San Antonio, Trinity's Michael Neidorff School of Business offers 8 undergraduate majors in business and one graduate program. Despite its small size, Trinity still provides a valuable education making it one of the best Texas colleges for business.
The average first-time CPA exam pass rate for Trinity students is well above the national average of 52%. In 2018, Trinity graduates had a pass rate of 85%. Undergraduate business students also show markers of high performance, 89% of students pursuing a bachelor's degree in business at Trinity University completed their degree requirements within four years.
Best online colleges in Texas
#1 Texas Tech University is the best college for eLearning in Texas. Texas Tech offers over 100 fully online degree programs and certificates. It also offers online students 24/7 support should they need help with anything from financial aid to logging into their email. Online degree programs allow students the flexibility and opportunity to achieve their dreams.
#2 The University of North Texas has 86 online program options with 1,628 course offerings. With such a wide variety of programs, students can achieve anything from a bachelor's degree in liberal arts to a master's degree in information technology.
#3 LeTourneau University offers 28 fully online undergraduate programs and 9 graduate programs. It is a polytechnic university with a total of 3,210 students. LeTourneau is devoted to offering students convenient and academically rigorous programs.
Best colleges for psychology in Texas
#1 Southern Methodist University offers a B.A. and a B.S. in Psychology as well as graduate programs of an M.S. in Organizational Psychology and a Ph.D. in Clinical Psychology. It is ranked by USA Today as the school with the highest paid psychology graduates.
Southern Methodist University students with a bachelor's degree in psychology earn the highest mid-career average salary of psychology graduates nationwide at $109,000.
#2 Baylor University's Psychology department, like Southern Methodist University, offers a B.A. or B.S. in Psychology, and also offers a B.S. in Neuroscience. Graduate students can earn a Psy.D. in Clinical Psychology or a Ph.D. in Psychology.
For Psy.D. students at Baylor, the average time it took them to complete their degree was only 5.32 years, and 90% of students completed their degree in 5 years.
#3 Texas Christian University is a great choice for prospective students of psychology. The Texas Christian University Department of Psychology offers a Bachelor's degree of Science as well as a Bachelor's degree of Arts in Psychology.
There are also undergraduate majors in Neuroscience and Child Development. At the graduate level, students can earn a Ph.D. in Experimental Psychology or a Master's in Developmental Trauma.
Best colleges for teaching degrees in Texas
#1 Texas State University offers 17 undergraduate programs and 21 graduate programs to future educators. With an undergraduate enrollment of 3,884 and a total enrollment of 5,046 in 2021, it's no surprise that Texas State prepares more public school teachers than any other university in Texas.
Education students at this school also have a great career retention rate, 81% of teachers from Texas State University are still teaching after five years.
Texas State University students also have great standardized test scores, in 2017 TSU students had a first attempt pass rate of 86% for the EC-6 Texas teaching licensing exam.
#2 Texas A&M offers 21 undergraduate programs and more than 30 graduate programs in education. The U.S. News and World Report ranks Texas A&M's graduate programs in its College of Education & Human Development among the top 10% in the nation. As a large public school, the college has nearly 7,000 students studying education and is the #1 producer of new teachers in Texas.
#3 Dallas Baptist University hosts 15 undergraduate and 12 graduate programs in education. National Council on Teacher Quality (NCTQ) has ranked DBU's elementary teacher preparation program as the overall number one program in the nation. Over 95% of students passed certification examinations in the 2020 school year
Best engineering colleges in Texas
#1 Texas A&M is one of the best colleges in Texas, and its College of Engineering is no different. This large public school in College Station has 15 engineering departments and 22,500 students. The undergraduate enrollment total is 17,663 and the graduate enrollment total is 4,837, making the College of Engineering the largest college on the university's College Station campus.
The American Society for Engineering Education ranks TAMU's College of Engineering as the second in the nation for the highest research expenditures. The U.S. News & World Report has named Texas A&M as hosting the top engineering program in Texas and the 10th best program nationally.
#2 Texas Tech University Edward E. Whitacre Jr. College of Engineering has 7 different engineering departments from mechanical engineering to computer engineering. There are 11 undergraduate engineering programs and 24 graduate-level programs with a total student body of 5,686. Business Insider has ranked the Whitacre College Of Engineering among the top 20 in the nation.
#3 University of Houston Cullen College of Engineering offers 8 undergraduate programs and 15 graduate programs to a total of 4,267 students. This school is unique as it was home to the first subsea engineering program in the United States. The American Society of Engineering Education recently honored the UH Cullen College of Engineering with an award recognizing its commitment to diversity.
Best colleges in Texas for nursing
#1 Texas Woman's University is one of the best higher education institutions for nursing in Texas. This school offers 5 Nurse Practitioner concentrations, a Master's of Science in Nursing, a Doctor of Nursing Practice, a Doctor of Philosophy in Nursing Science, as well as a certification in Nursing Education.
The university is known for its devotion to academics. Texas Woman's University boasts a 96% pass rate on the nursing licensure exam (NCLEX), and the U.S. News & World Report ranks their Family Nurse Practitioner program among the top 10 in the United States.
#2 Schreiner University has a relatively new nursing program, but it has quickly become one of the best colleges in Texas for nursing. Schreiner held a 100% NCLEX pass rate in 2020 and was named the Best Nursing School in Austin by RNtoBSNProgram.com.
#3 Texas State University is also one of the colleges ranking highly for its nursing programs. In addition to its bachelor's programs, Texas State's St. David's School of Nursing offers 2 Nurse Practitioner concentrations and a master's in Nursing Leadership and Administration.
The Nursing Schools Almanac ranks Texas State as the second-best nursing program in Texas. Over the past 5 years, this school has held a consistent 100% NCLEX pass rate.
Best medical colleges in Texas
#1 Baylor University takes the number one spot for best colleges in Texas for medical students. Prospective students don't have to worry about student debt getting in the way of their career goals because graduates of Baylor have a lower average debt than those of other public and private medical schools.
Baylor is ranked as the fifth-best medical school in the nation by the U.S. News & World Report. In 2019, 100 percent of Baylor students passed the first time they took the medical licensing USMLE Step 1 exam.
#2 The University of Texas Southwestern Medical School trains roughly 950 medical students and 1,300 clinical residents each year. This school is also highly ranked by the U.S. News & World Report. It is ranked among the top 25 for research and the top 20 for primary care among 192 medical schools nationwide.
UTSW exceeds national averages, too. In 2022, more than 97% of UTSW medical students matched to residency programs compared to the national average of 94%.
#3 The University of Texas McGovern Medical School at Houston is the ninth largest medical school in the United States. Students of McGovern Medical school are able to work and learn at the Memorial Hermann Hospital Texas Medical Center which is the busiest trauma center in the country, meaning they will get plenty of experience in lifesaving medicine.
Best computer science colleges in Texas
#1 The University of Texas at Austin's computer science department allows for specialization tailored to students' career goals. Undergraduate students have 7 concentration options available to them. UT Austin's Computer Science program is ranked number 10 nationally by the U.S. News & World Reports. 90% of UT Austin computer science graduates go on to immediate employment or graduate school.
#2 Rice University is a private university in Houston, TX with a great Department of Computer Science. According to the U.S. News & World Reports, Rice University has two highly ranked computer science programs. The school is ranked 22 for computer programming language and 26 for computer science systems.
Graduates of the computer and information science at Rice University have been found to have a median salary of $111,900.
#3 The University of North Texas ends this list of the best colleges in Texas with its excellent computer science program. UNT's Master's of computer science and engineering program ranked 2nd in the nation by BestValueSchools.org.
The University of North Texas undergraduate computer science program was also ranked 16th in the nation for enrolling and graduating women by The Chronicle of Higher Education.
Our methodology behind ranking the best Texas college
Using information from the National Center for Education Statistics, the Texas Public Higher Education Almanac, as well as school-published data, information on several different universities in Texas was comparatively analyzed.
Factors such as student-faculty ratio, graduation rate, average tuition and fee costs, the average debt of graduates, degree completion time, and employment rates were reviewed to rank each school accordingly.
Frequently asked questions about Texas colleges
How many colleges are in Texas?
There are 163 four-year colleges in Texas with. Texas universities range from well-known prestigious universities with a large undergraduate enrollment to smaller specialized schools. Whether a student is looking for a primarily Hispanic serving institution or a school associated with the Christian church, the lone star state is sure to have something to offer.
How to apply for college in Texas?
There are several ways to apply for college in Texas. While students can often apply for admission into a university either by sending a paper application to schools or by completing an online application found on a specific school's website, there are other ways to apply to many different schools at once.
ApplyTexas is an online application system used by all public colleges in Texas and some private ones as well. This system allows students to create one college application and send it out to multiple schools. This can be a time saver for students who want to apply to a broad range of schools.
Many schools in Texas also accept the Common App, which is similar to ApplyTexas as it works to make the application process easier when applying to multiple schools. However it is much more versatile, the Common App is accepted by schools throughout all 50 states and even universities internationally.
During their school search process, students should check the website of the colleges they intend to apply for to determine which application methods are accepted. The application method you choose depends on your specific needs and what colleges or universities you will be applying to.
Typically, colleges in Texas will require students to submit standardized testing scores such as their ACT score or SAT score and their high school transcript to be considered for admission. Though many schools are now test-optional so ACT scores and other test scores may not be requirements.
How much does college cost in Texas?
The cost of college in Texas can vary greatly. Some students will be eligible for free tuition from their university of choice while others might pay thousands of dollars a year. Two of the biggest determining factors for the cost of school in Texas are whether a student attends a private or public institution and whether they are classified as an in-state student or an out-of-state student.
For instance, a student attending a private institution like Rice University or Southwestern University will likely pay more than a student at a public school like Texas Tech University or Sam Houston State University. Statewide, the average cost of attending a Texas college is $5,365 for Texas residents and $16,243 for other students.
How to become a Texas resident for college
Becoming a Texas resident can allow Texas students better opportunities when it comes to financing their college education. In-state tuition is generally much less expensive than out-of-state tuition from many universities, but in order to qualify for in-state tuition savings, you must be a state resident. There are two ways to become a Texas resident for college.
The first way is to have graduated from a Texas high school. High school students will also need to have lived in Texas for 3 years before their graduation date.
The second way is to establish a domicile in Texas. The student or their legal guardian must live in Texas for 12 months and either be gainfully employed in Texas, own a residential property in Texas, or own a business in Texas.
Since out-of-state students are often expected to pay much more and have less state financial aid available to them than in-state students, becoming a Texas resident can save thousands of dollars in educational expenses.
Is community college free in Texas?
While community college is not considered completely free in Texas, there are many ways for students to get discounted tuition rates and tuition benefits from Texas community colleges.
Programs such as the Alamo Promise or the Dallas County Promise offer to pay for the portion of tuition that federal, institutional, and state aid won't cover. For eligible students, this means that they can achieve higher learning 100% free. To qualify, students need to have attended certain high schools and they need to complete an online application for their specific Promise program.
Other tuition exemption programs exist as benefits for students who have been in or have parents in certain professions like law enforcement and nursing.
Prospective students and first-year students at Texas community colleges should research different programs to see if they qualify for free college in Texas.