Top Theology Degree Program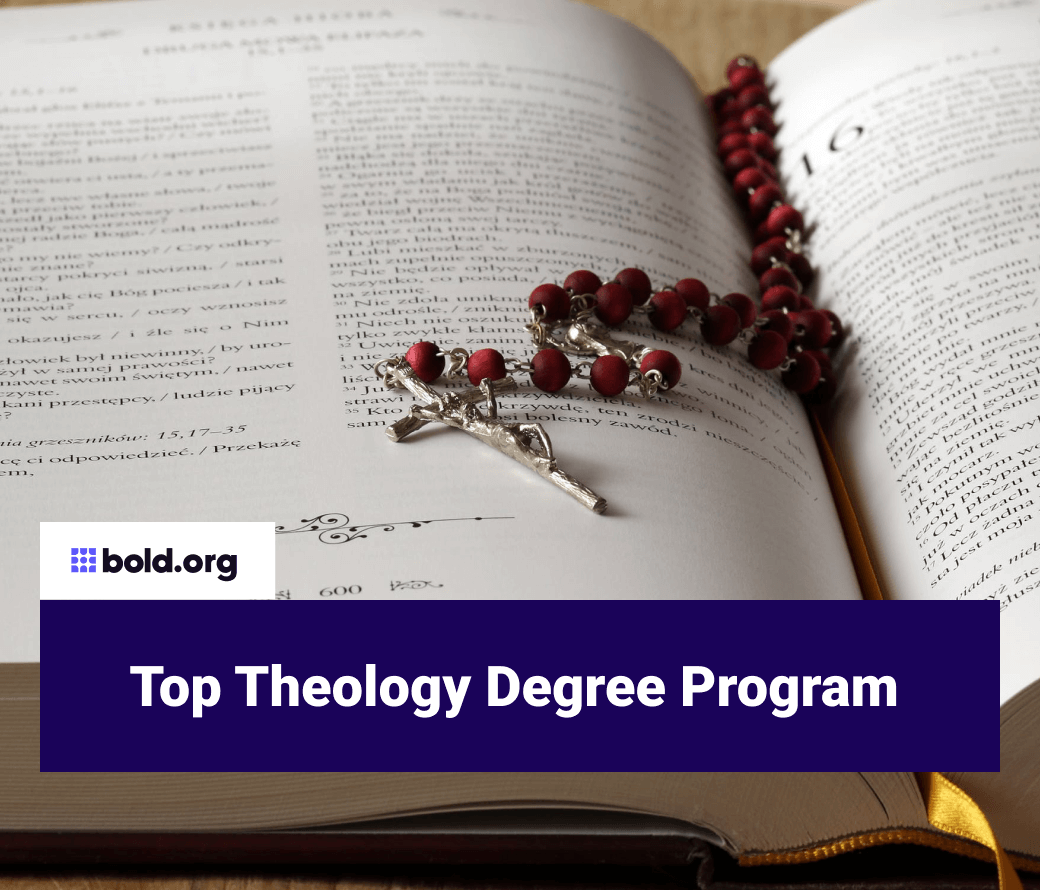 Top scholarships with upcoming deadlines
Deciding what college to pursue your degree at is a challenging and life-altering choice. With so many schools available, each with its own strengths and weaknesses, it can be difficult to determine which one is the best for you. Keep reading this guide to learn more about the theology programs open to you!
What is Theology?
Theology is the area of study that studies various religious texts, artifacts, resources, and other materials in order to better understand God and religion. Individuals in this field typically pursue this degree as part of their seminary work prior to becoming a priest, pastor, or another religious leader within a church or community. Theology programs also tend to offer comparisons of religions and stories in order to identify the origins of such tales in historical contexts and to better understand their purpose and morphology.
Get Matched to Thousands of Scholarships
Create your Bold.org profile to access thousands of exclusive scholarships, available only on Bold.org.
Create Free Profile
Career Summary
Median Salary: $77,420
Percent Above National Income Average: 52.12%
Total Sector Employment: 23,180
Degree Median Salary vs Adjacent Degree Types: $77,420 vs $47,640
2022 Best Theology Degree
11. Ohr Hameir Theological Seminary
15. Southern Methodist University
20. Union University
22. University of San Francisco
23. Sewanee - The University of the South
1. Harvard University
Location: Amherst, MA
Graduation Rate: 97.1%
Acceptance Rate: 4.64%
Student to Faculty Ratio: 7:1
Harvard University offers a number of top-ranked degrees in Theology. One example is Religious Literacy: Traditions and Scriptures. In this course, students will learn how to better understand the complex ways that religions function both in historic and contemporary contexts. A course in Buddhism through its Scriptures is also available, it teaches about the rich and diverse beliefs and practices of Buddhists across time and place. The other four courses are Islam through its Scriptures, Judaism through its Scriptures, Christianity through its Scriptures, and Hinduism through its scriptures.
2. Yale University
Location: Danbury, CT
Graduation Rate: 97.2%
Acceptance Rate: 6.08%
Student to Faculty Ratio: 6:1
Yale University's Department of Religious Studies aims to provide opportunities for the scholarly study of a number of religious traditions and disciplines. The undergraduate level will be offered with a wide array of courses that cover the major religions of the world. A strong emphasis on the world's religions' history and intellectual traditions are also included. At the graduate level, there are ten fields organized in the Department such as Ancient Christianity, Islamic Studies, New Testament, Old Testament, Religious ethics, American Religious History, Asian Religions, Judaic Studies, Philosophy of Religion, and Theology.
3. University of Chicago
Location: Chicago, IL
Graduation Rate: 94.73%
Acceptance Rate: 6.17%
Student to Faculty Ratio: 5:1
The University of Chicago offers a world-class academic degree in Theology. This program is concerned with the historical study of the self-understanding of a religious tradition. So, students here will address questions about the history of theology. They will also consider the definitive characteristics of theological claims and discourse.
4. Duke University
Location: Davidson, NC
Graduation Rate: 94.62%
Acceptance Rate: 7.6%
Student to Faculty Ratio: 6:1
Duke Divinity University offers seven-degree programs which they claim can help students answer God's call. They also have three joint degree programs that are available to students through partnerships with Duke Law School, Duke Sanford School of Public Policy, and the University of North Carolina at Chapel Hill School of Social Work. Lectures, workshops, and discussions with renowned leaders in Christian theology will be provided in these programs. They guarantee that each student will receive the kind of support they need in order to reach success.
5. University of Notre Dame
Location: Kalamazoo, MI
Graduation Rate: 95.88%
Acceptance Rate: 15.83%
Student to Faculty Ratio: 10:1
The University of Notre Dame is known to be the most important Catholic and ecumenical center in North America for advanced study in theology. They are currently offering a program for a Ph.D. in Theology where students will be mentored by world-class scholars. Students receive access to vast research and learning opportunities. The curriculum provided will give experience in-depth and diversity.
6. Vanderbilt University
Location: Jackson, TN
Graduation Rate: 92.97%
Acceptance Rate: 9.12%
Student to Faculty Ratio: 7:1
The Graduate Department of Religion at Vanderbilt University offers a degree program in Theological Studies. Majors should complete Nineteenth Century Theology, and Contemporary Theology, and must also take a Seminar in Systematic Theology during each of their first two years of coursework. Those who concentrate in the Theological Studies area should demonstrate proficiency in two languages of research. These languages are usually chosen from French, Spanish or German.
7. Emory University
Location: Franklin Springs, GA
Graduation Rate: 90.01%
Acceptance Rate: 15.6%
Student to Faculty Ratio: 9:1
You can fine-tune your focus at Emory University's Master of Theology. This is a one-year program of study that is beyond the first-level theological master's degree. This is ideal for students who aspire to deepen their knowledge in a particular area of study that will enhance their academic knowledge or ministry skills. ThM Students usually focus on one of these courses of study: preaching and worship, theology and ethics, Bible, pastoral care, or religious education.
8. Boston College
Location: Brookline, MA
Graduation Rate: 94.04%
Acceptance Rate: 27.22%
Student to Faculty Ratio: 13:1
The School of Theology and Ministry at Boston College takes information seriously. They say that the study of theology is actually about transformation. Their objective is to produce graduates that are prepared to be the leaders and agents of transformation in the Church and in the World. Their world-class faculty are recognized for their theological expertise.
9. Boston University
Location: Chestnut Hill, MA
Graduation Rate: 88.45%
Acceptance Rate: 18.94%
Student to Faculty Ratio: 10:1
Boston University's School of Theology will make you dig into traditions and rethink them. They take much pride in their community of learners who always think creatively about real-world problems. Those who will be admitted here will have the opportunity to learn alongside accomplished students while being guided through rigorous academic programs by world-class faculty. The School of Theology at Boston University's faith is diverse but its callings are varied.
10. Villanova University
Location: Sharon Hill, PA
Graduation Rate: 89.81%
Acceptance Rate: 28.24%
Student to Faculty Ratio: 11:1
Villanova University's Department of Theology and Religious Studies utilizes a faith-engaging culture approach. They offer undergraduate and graduate level programs. They have scholars that explore how religion influences the way people spend money, support philanthropic causes, and vote in elections. While some study medieval mysticism, papal history, lineaments of liturgy, and science and religion.
11. Ohr Hameir Theological Seminary
Location: New York, NY
Graduation Rate: 100%
Acceptance Rate: 50%
Student to Faculty Ratio: 18:1
Ohr Hameir Theological Seminary has been endowed with a distinct and coherent sense of purpose regarding the education of young adults. They were also recognized for being a tribute to the foresight of its founder, rabbi Israel Kanarek zt'l. Ohr Hameir is devoted to dual objectives of promoting the Lomdus approach to Talmudic learning as well as to the development of ethical perception and depth of thought. The unique feature of the Ohr Hameir program is the development of the total "Torah personality".
12. Santa Clara University
Location: Santa Barbara, CA
Graduation Rate: 91.17%
Acceptance Rate: 48.82%
Student to Faculty Ratio: 10:1
Santa Clara University believes that the most dynamic and rigorous learning occurs when scholarship and culture intersect. Their Jesuit School of Theology is designed to help its students find their purpose. It is located in Berkeley, California, and is an international center for the study of theology. They provide opportunities to critically and faithfully engage the two-thousand-year tradition of Christianity.
13. Providence College
Location: Pawtucket, RI
Graduation Rate: 87.04%
Acceptance Rate: 47.46%
Student to Faculty Ratio: 11:1
The Study of Theology at Providence College is an integral portion and the heart of their core curriculum. Students here engage in a practice of reasoned inquiry of faith and the great questions of life. The courses required in theology are designed to increase and deepen the exposure of students to the fruit of centuries of Christian thinking about God. It will give emphasis on the appreciation of the Catholic and Dominican views of the religious and spiritual dimensions of human life.
14. Fordham University
Location: Dix Hills, NY
Graduation Rate: 82.74%
Acceptance Rate: 45.88%
Student to Faculty Ratio: 15:1
Fordham University is currently offering an undergraduate program in Theology. The discipline of this program tackles important life questions by engaging a variety of disciplines, including philosophy, literary, and historical studies. Majors will receive an excellent liberal arts education. They will learn the crucial skills of thinking critically and analytically.
15. Southern Methodist University
Location: McAllen, TX
Graduation Rate: 81.16%
Acceptance Rate: 47.29%
Southern Methodist University is currently offering a degree program in Master of Theology. In this program, graduate students will enhance their practice of ministry with the help of advanced study of a theological or pastoral discipline. They will be taught how to conduct scholarly examinations of a specific aspect of the Christian Religion or function of Christian ministry. This is also a great way to prepare for a more advanced study at the doctoral level.
16. Divine Word College
Location: Ankeny, IA
Graduation Rate: 100%
Acceptance Rate: 62.5%
Student to Faculty Ratio: 4:1
The study of Theology at Divine Word College is not just academic, it is a faith experience. The Theology and Religious Study degree challenges its students to develop intellectually as they prepare for the ministry. This program is also designed as one for personal faith formation. This is a combination of academic knowledge with critical thinking and spiritual development.
17. University of Dallas
Location: Dallas, TX
Graduation Rate: 71.43%
Acceptance Rate: 45.34%
Student to Faculty Ratio: 11:1
The study of Theology at the University of Dallas is faith-seeking understanding. They provide an intellectually rigorous Catholicism, they claim that their task isn't primarily catechetical, but rather a theological one. They integrate the History of Christian Doctrine, Moral Theology, Systematic Theology, and Scripture. Up to now, they still continue to strive to be scripturally and historically rooted and faithful to Catholic teaching.
18. Gonzaga University
Location: Spokane, WA
Graduation Rate: 84.6%
Acceptance Rate: 61.7%
Student to Faculty Ratio: 11:1
Gonzaga University is currently offering a program for Master's in Theology & Leadership. This degree brings theological reflection and leadership together in a one-of-a-kind program. This is designed to build upon students' knowledge of Christian theological traditions. At the same time, it will help them gain real tools and insights to be a more effective leader in their church, organization, and community.
19. Saint Louis University
Location: Rolla, MO
Graduation Rate: 78.9%
Acceptance Rate: 58.28%
Student to Faculty Ratio: 9:1
A Ph.D. in Theological Studies is currently available at Saint Louis University. This program is designed to train scholars in one of the two concentrations which reflect areas of research excellence and depth among their faculty: Christian theology, and Christianity in antiquity. No matter what their concentration, students can expect to explore a wide range of methodological approaches. Students will be formed as both scholars and teachers.
20. Union University
Location: Greeneville, TN
Graduation Rate: 68.21%
Acceptance Rate: 52.72%
Student to Faculty Ratio: 10:1
Union University will help you to be devoted, to be a disciple, and to be transformed through their Union's School of Theology and Missions. This is best suited for those who want to prepare for the ministry. This School has always been devoted to rigorous academics and attention to students as individuals. Their overall goal is to help students be committed to Church and reach the nations through the gospel.
21. Stonehill College
Location: North Dartmouth, MA
Graduation Rate: 82.43%
Acceptance Rate: 67.69%
Student to Faculty Ratio: 12:1
A minor and a major in Theology are both available at Stonehill College. These programs are structured to systematically examine religious beliefs. It will foster interdisciplinary study that will allow the students to explore topics including the church, ethics, and their intersection with contemporary life. Through the courses provided, students will critically study religious practice, experience, and faith that are rooted in contextual understanding and historical awareness.
22. University of San Francisco
Location: San Anselmo, CA
Graduation Rate: 75.02%
Acceptance Rate: 64.42%
Student to Faculty Ratio: 13:1
Both Theology and Religious Studies are offered at the University of San Francisco and reflect the University's justice and service-oriented mission. They offer a major and minor program that prepares students for the demands of this rapidly changing world. With an aim to make students familiar with major religious traditions, symbols, and values, the programs are designed to systematically and critically explore human religious experiences in a variety of cultures. As the students proceed to study in these programs, they will develop a deeper appreciation of the role of religion in life.
23. Sewanee - The University of the South
Location: Shelbyville, TN
Graduation Rate: 79.1%
Acceptance Rate: 66.71%
Student to Faculty Ratio: 10:1
The School of Theology at Sewanee – The University of the South, has committed itself to provide quality theological education for all. This school is the home of clergy education and training. The standard to which the school is held is based on the Book of Common Prayer and the Hymnal 1982. They promote excellence in performing faithful and effective clergy and develop future leaders for the Church.
24. LeTourneau University
Location: Baytown, TX
Graduation Rate: 63%
Acceptance Rate: 44.51%
Student to Faculty Ratio: 11:1
Academics, spiritual formation, and service are joined together at LeTourneau University in order to make a practical difference in the world. Their programs in Theology have a 100% placement rate and 100% of their faculty have international ministry experience. They claim that their School in Theology and Vocation plays an important role in encouraging the university to participate in God's mission in redemption of this world. This school is tailored to facilitate faith integration and to encourage the discovery of God's calling.
25. Harding University
Location: Batesville, AR
Graduation Rate: 68.62%
Acceptance Rate: 61.34%
Student to Faculty Ratio: 16:1
Harding University offers programs in Religious Studies through their School of Theology. They have certificate, Master's, and Doctorate programs. The Certificate in Spiritual Leadership is specifically offered for individuals who seek to better understand the Biblical model of leadership in the church context. To see the other important details for the other programs, you may visit the school website.
Top Theology Degrees
There are a number of college degrees available to students and practitioners today in theology. In fact, the choices increase markedly with the proliferation of online theology programs across the country. Online college degree programs are also known as distance learning programs and are the fastest growing type of degree option for several years running.
Online theology programs can come in two different modalities that you need to be cognizant of: synchronous learning and asynchronous learning. The easiest way to think about the difference is to remember that synch means to bring things together. As such, synchronous learning happens through online college degree programs when everyone in a class is required to be present at the same time, reviewing the same material simultaneously. Instead of being physically present in a classroom, you will be present remotely via the internet and participate accordingly.
On the other hand, asynchronous learning does not require students to be logged in at the same time but is self-directed as you work on material at your pace. If you are considering a college degree in theology, online or offline, the list below is intended to help you make the best choice for your future with the options available.
Associate Degree in Theology
An associate degree in theology is a 2-year program and is seen as the entry point into various religious organizations and church groups. Online associate degrees in theology will often be an AA or Associate of Arts degree with a defined area of emphasis. Three of the most popular AA programs in the theology degree concentration include:
Associate of Arts in Christian Counseling (AA)
Associate of Arts in Christian Leadership (AA)
Associate of Arts in Religion (AA)
All three Associate degree tracks include a mix of liberal arts courses and a core theology curriculum. The combination of both types of classes provides students with a well-rounded education and helps students think differently about the world around them. Career options for theology majors earning an associate's degree include clergy, chaplaincy, social services, business, communications, education, missions, religious communities, and health ministries.
Bachelor's Degree in Theology
A bachelor's degree in theology is a 4-year program designed to provide students with substantive exposure to general education courses and theology studies in a particular area of concentration. The most popular online bachelor's degree programs include the following Bachelor of Arts (BA) and Bachelor of Science (BS) programs:
Bachelors in Media Ministry (BA)
Bachelors in Ministry (BA)
Pastoral Leadership (BS)
Bachelors in Biblical & Studies (BS)
Music & Worship Studies (BS)
Bachelors in Youth Ministry (BA)
Bachelors in Philosophy & Religion (BA)
Bachelors in Global Outreach (BS)
Christian Leadership & Church Ministries (BS)
Christian Worship (BS)
Theology and Apologetics (BS)
Master's Degree in Theology
Earning a master's degree in theology is a 1-2 year program of full-time work after successfully completing all requisite lower-level classes. Master's degree programs provide a higher degree of focus on core concentrations with little to no general education courses. Students graduating from an accredited college or university with a master's degree in theology are equipped to launch a career in a wide variety of fields from urban ministry to a school teacher. A list of popular online master's degree programs in theology includes the following:
Christian Apologetics (MACA)
Christian Ministries (MACM)
Divinity (MDiv)
Biblical Languages (MDiv)
Marriage and Family Counseling (MA)
Crisis Response and Trauma (MA)
Christian Counseling (MA)
Theology (MA)
Biblical Studies (MDiv)
Homiletics (MA)
Religion (MAR)
Healthcare Chaplaincy (MDiv)
Worship Studies (MA)
Christian Leadership & Church Ministries (MDiv)
Pastoral Counseling (MA)
Evangelism and Church Planting (MAR)
Educational Requirements for Theology Majors
A degree in theology asks students to explore religious systems in a variety of contexts. Individuals studying in a theology program will explore the history of religion, examining documents and books relevant to the religion. In addition, students will be asked to compare religions, examining the similarities and differences in doctrine. In the United States, theology programs were often at the core of private institutions, many of which were founded with religious leanings. Currently, the program is often offered at seminaries or liberal arts colleges, resulting in degrees at the bachelor's, master's, and doctoral levels. Some programs may require the learning of an ancient language, such as Aramaic, Ancient Greek, Latin, or Hebrew, in order to read texts in their original or near original form.
A theology program curriculum may include:
Prophetic Literature
Historical Books Survey
Poetic Literature
History of Christianity
Biblical Theology
What Schools Offer Theology Programs?
There are dozens and dozens of accredited colleges and universities that offer theology programs.  From a local college in your state to an online master's degree in divinity from a large university, you have more choices today than ever.  To learn more about colleges and universities offering theology programs, you can simply visit any number of programs below or sort by state on this resource page. The key is to start learning today and determine which schools best fit your career objectives and vocational aspirations.
Employment Opportunities in Theology
Individuals pursuing a career with a theology degree will find that the most prominent jobs available are in the clergy. As many seminaries offer education in theology, it is the goal of such institutions to prepare individuals to do God's work in whichever branch of Christianity they pursue. Entering the clergy allows individuals to pursue further theological studies within the context of organized religion while disseminating the traditions and values to their congregation.
Other positions available to individuals involve educational opportunities, particularly college-level teaching positions typically requiring a master's degree. University positions, including research positions, generally require a doctoral degree or extensive experience. Individuals may also end up in research and advisory positions, often employed by the government to evaluate and understand the religious motivations of the populace and to promote sensitivity to their beliefs.
Theology Degree Programs Near You
To find theology degrees offered from accredited colleges or universities, you can complete a targeted search by a degree or school. Alternatively, you can search for theology and ministry degrees by state to find programs near you. The list below represents the states that have at least six bible colleges offering an array of online theology degrees and in-class degree options. Simply search and sort schools that fit you best and obtain no-obligation admissions information from top-rated accredited bible colleges near you.
Career Outlook for Theology Majors
The average starting salary for a theology major is approximately $35,000 per year, with the average overall salary being $52,000 per year. Salaries in theology will vary wildly based on position, rank, experience, and education, individuals who pursue higher-level degrees will be more likely to be promoted.
Individuals interested in theology may also be interested in religious studies, divinity, ministry, or rabbinical studies. In addition, you may benefit from joining an association such as the APT or RTA to enhance your career opportunities in the field.