JobTest.org Career Test Review, According to a Recent College Grad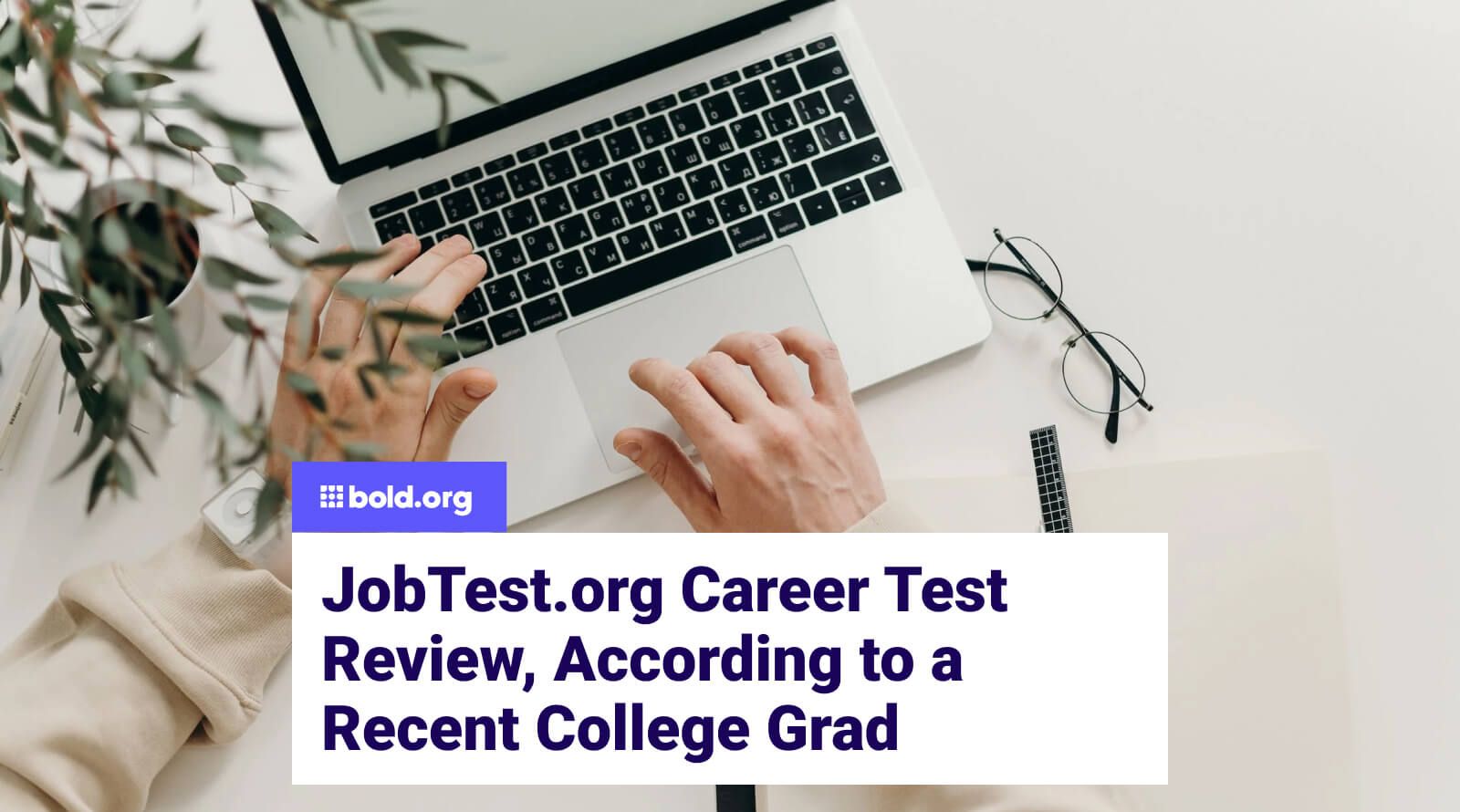 Top scholarships with upcoming deadlines
A few short months ago, I faced my final semester of college without any idea of what life would hold after graduation. While I had been a diligent student, thoughtful about my future, I remained uncertain about my next steps. As an English major, I felt naturally inclined to become a journalist or even a novelist one day.
But as my final year approached, I had second thoughts and couldn't see myself committing to a lifetime of writing (maybe a year or two after graduation). I toyed with the idea of venturing into business but was confronted with overwhelming career possibilities that seemed out of reach. Feeling a bit lost, I sought help and stumbled upon JobTest.org.
I must admit, I doubted whether another career test could make a difference, but I was desperate for answers and gave it a shot. And let me tell you, my experience was genuinely transformative! JobTest.org delivered the inspiration I searched for and guided me through the transition from the classroom to a job, imbuing me with a newfound sense of confidence.
You might be curious about how I achieved this. I'll walk you through my entire experience, from the decision to take JobTest.org's career test to where I am today as a college graduate with a new plan in place. I'll discuss what the results taught me and explain why I highly recommend JobTest.org, especially for students facing similar circumstances.
Visit our blog about jobs to pursue while in college, where you can gain the necessary skills to help prepare you for the professional world!
What Is JobTest.org, and Why Did I Try It?
During one of my final college counseling meetings, my advisor suggested I explore JobTest.org–an innovative AI-driven career test. This recommendation caught my attention because it differed from the conventional career assessments I took in high school.
The previous tests failed to offer any lasting career advice. Given the emergence of AI programs like ChatGPT, I was hopeful the current career aptitude tests may have evolved and could offer improved career suggestions and insights.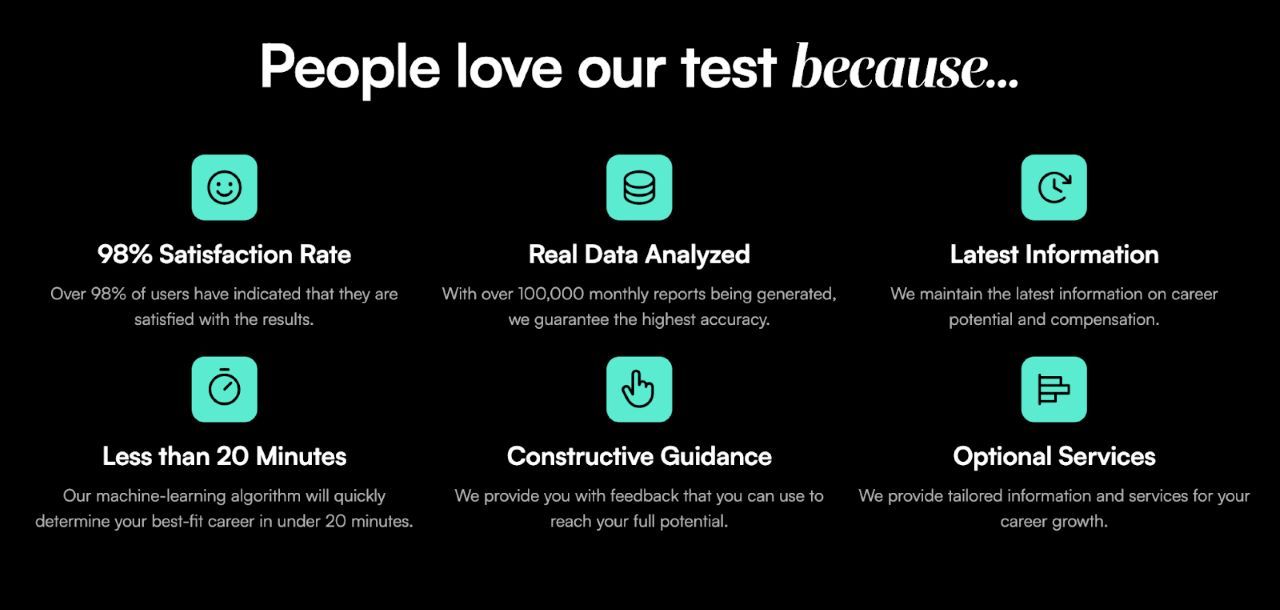 How Does JobTest.org Work?
I majored in English, not computer science, so I won't pretend to crack the code on how JobTest.org conjures up its answers. Nonetheless, I can provide insights on user experience and what to expect if you try it.
The Process
I kicked things off by clicking the "Start the Test" oval button at the top right corner of JobTest.org's homepage. It asked me a few introductory questions, like if I've taken a career test before, why I decided to take one, and what I value most in my career, such as compensation or work culture. After completing the assessment, JobTest.org requested some personal details and payment information, and shortly after, I had my results.
All in all, the entire process took less than twenty minutes from the moment I began until I received the report.
Types of Questions
Most of the questions were multiple-choice, ranging from three options to several, in addition to sliding scale ratings, visual, and typed. Each question had clear instructions and required an answer to proceed. However, I had the flexibility of revisiting and modifying my answers.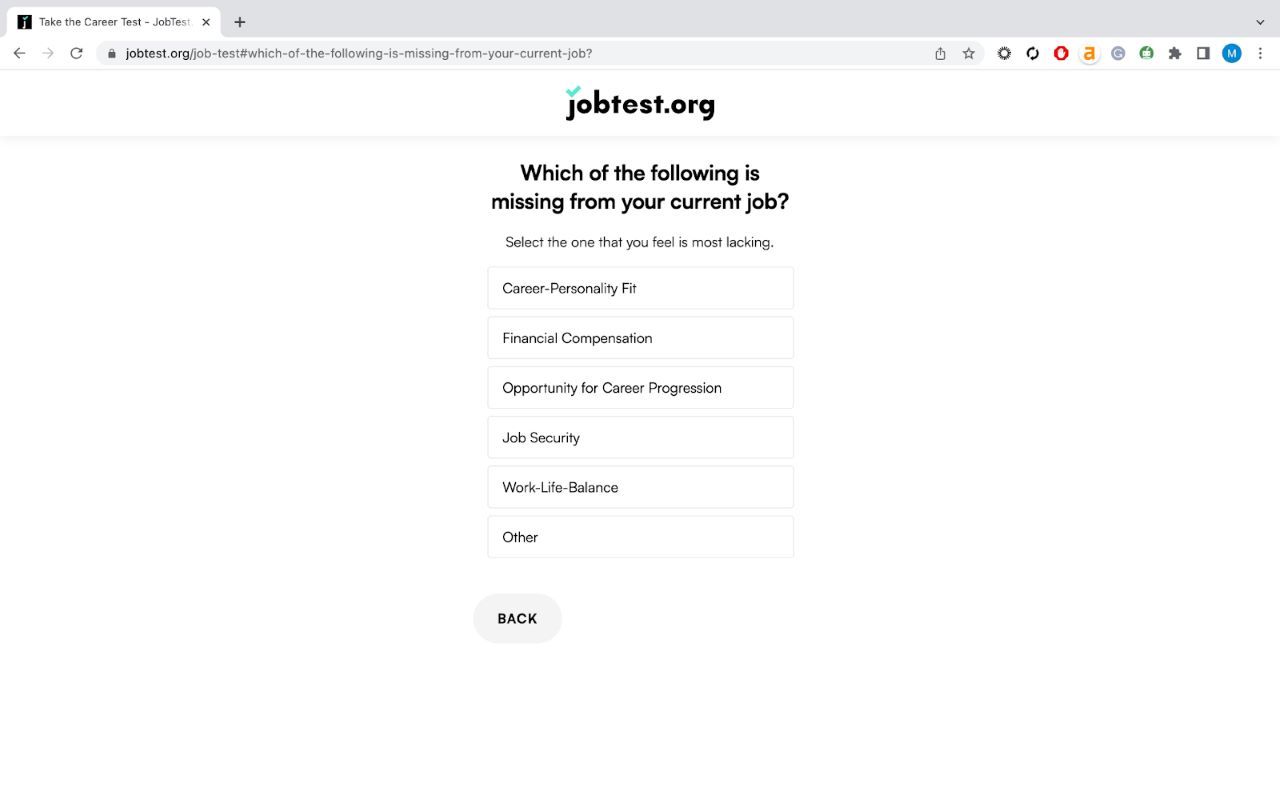 Only one question occupied the screen at a time, with a rough estimate of fifty questions total. I hardly had to think about my answers since the questions prompted immediate responses, streamlining the process and enabling me to work quickly through the test.
For some teenagers, they may not have a clear preference for specific questions, such as what kind of work environment they prefer, especially if they don't have work experience. However, I took the adult test, so the career quiz for teens might omit questions that are irrelevant to younger audiences.
Package Options
After I completed the test, JobTest.org presented me with the report options and their respective prices. The choices included a basic, comprehensive, and premium report, with prices ranging from $24.90 to $99.90.
I chose the comprehensive package ($34.90), which provided me with my top five career matches, a personality analysis, and several useful tools and resources. Once I purchased my report, JobTest.org also gave me the opportunity to upgrade to the Pro and Premium versions for an additional $9.90 or $65 each. These upgraded versions include extra features like exclusive industry insights and a meeting with a personal career coach.
Are the Results Worth It?
Initially, I didn't know what to expect from a career test. My goal was to gather ideas and explore potential directions I could pursue outside of English. Much to my surprise, JobTest.org not only assisted in achieving this, but it showed me how to devise a plan to achieve my career goals.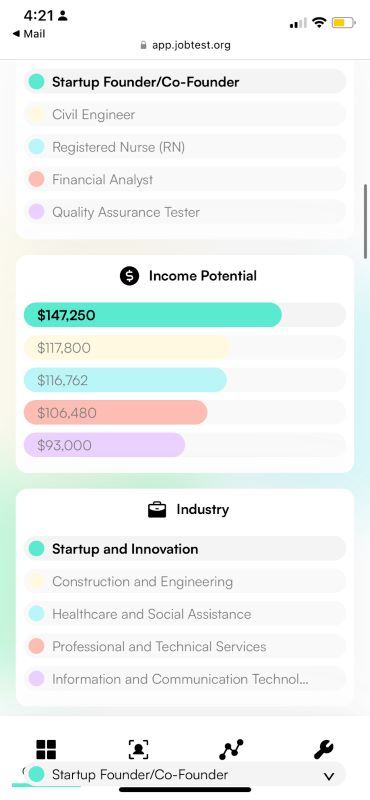 Presentation
The comprehensive results are divided into four main sections: overview, personality, career path, and tools. Each page is easy to navigate and scan, with clearly delineated sections and labels. While JobTest.org has a few explanations on interpreting the report and getting the most out of it, I found it self-explanatory and easy to use without the help.
Coming from college, where several virtual tools—like library databases and class portals—have remained unchanged since the invention of the internet, I was happy to see a service that put in the effort to modernize and create a visually-appealing report. Another plus is its compatibility with mobile devices, functioning seamlessly on smaller screens.
Content
The overview page, as its name suggests, gives a snapshot of the key components of the report. Here, I can view my top five careers, income potential, and personality scores. For a more detailed exploration, I can simply click on the corresponding tab to gather additional insights.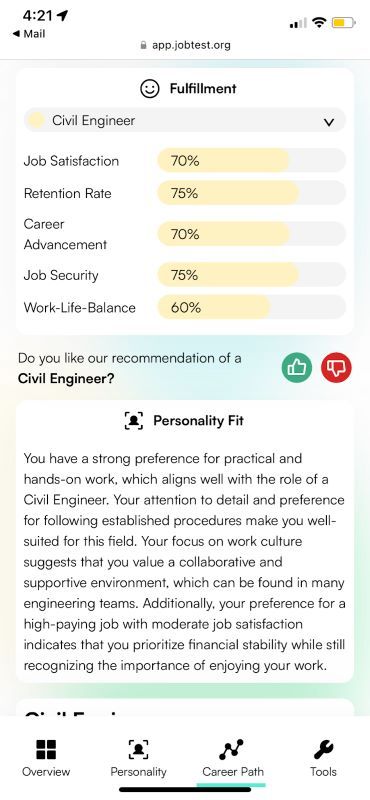 I enjoyed reading about my personality and understanding the reasoning behind my scores. According to JobTest.org, I'm bold and pragmatic, indicating a competitive spirit, and inherent leadership qualities. I also appreciated the constructive feedback provided by JobTest.org to improve my areas of weakness:
"Engaging in a creative hobby, such as painting or playing a musical instrument, will not only allow you to express your originality but also tap into your nonconformist spirit. Additionally, participating in volunteer work or joining social outreach initiatives will help you nurture your supportive and nurturing side, fostering a well-rounded personality that can positively impact both your personal and professional life."
The content proved valuable, uncovering aspects of my personality I hadn't been aware of previously. I found the feedback helpful to contemplate strategies for ongoing improvement, and the career matches offered compelling options for me to consider.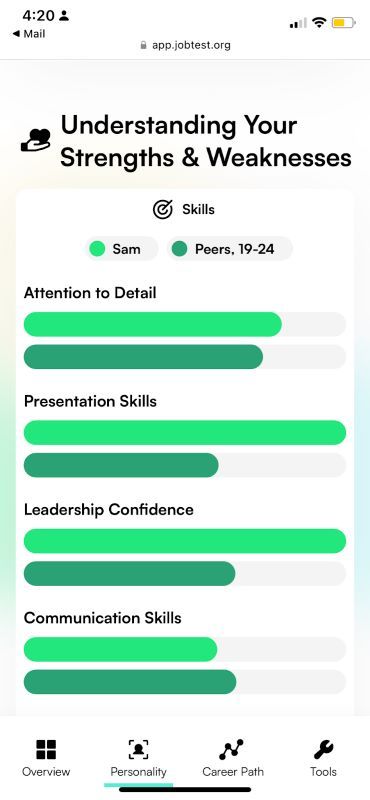 Usability
I intend to utilize my report as the starting point for shaping my career path. Now, thanks to JobTest.org, I have insights into each job's salary range and outlook, including satisfaction, retention, and security. JobTest.org also provided me access to various resources, which I find especially helpful if I decide to pursue graduate school.
I feel more self-aware after learning about my personality. There's room for improvement in areas where I lack familiarity, especially creative thinking and marketing knowledge. My immediate focus remains steadfast on actively seeking and applying for new job opportunities. One of the resources JobTest.org offers is a resume builder and I'm eager to make the most of it when the time comes.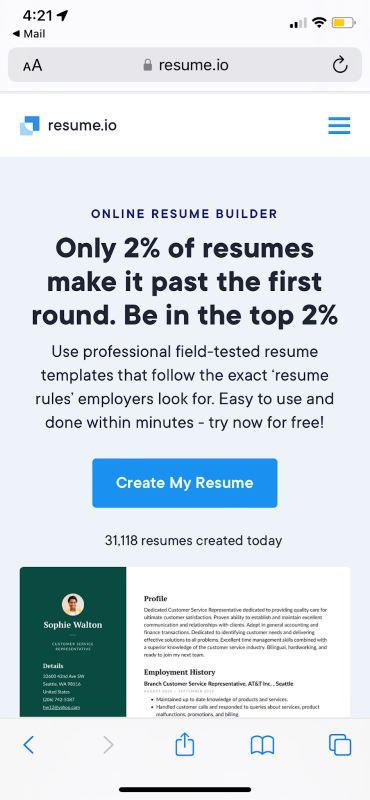 Overall Value
I initially thought career tests were gimmicks, but I was proven wrong after trying JobTest.org. While it does come with a cost, it has turned out to be arguably one of the most valuable investments I've made in my few years of adulthood. I can see real career paths I'm capable of, despite previously thinking I was meant to only be a writer because of what I studied.
I feel more confident in deviating from my original plan and joining a startup, an entry point into the business world I had never considered before. Only time will tell exactly how much I'll use JobTest.org's recommendations, but I've already changed my career outlook. Thanks to the invaluable information JobTest.org has provided, I'm taking proactive strides in reshaping my career plans and setting off on a new path.
Should You Try JobTest.org?
If you're a college student or graduate with little on the horizon, I hope sharing my experience with JobTest.org inspires you and encourages you to discover how helpful JobTest.org can be. And if you're an adult reading this who wants a change, I'm confident JobTest.org can be of assistance as it considers necessary preferences, like avoiding returning to school or avoiding certain industries.
I've recommended it to my friends facing similar situations, and I extend the recommendation to anyone in search of career inspiration. So if you're ready to take the first step toward a brighter future, I encourage you to start with JobTest.org's career test to learn about your career possibilities and how to reach them.
Explore the Bold Scholarship Blog for deeper insights into college life, financial aid, and perspectives from college students on their educational journeys! While you're here, browse these top skills employers seek in college graduates!