Complete Resource Guide for College Students with Disabilities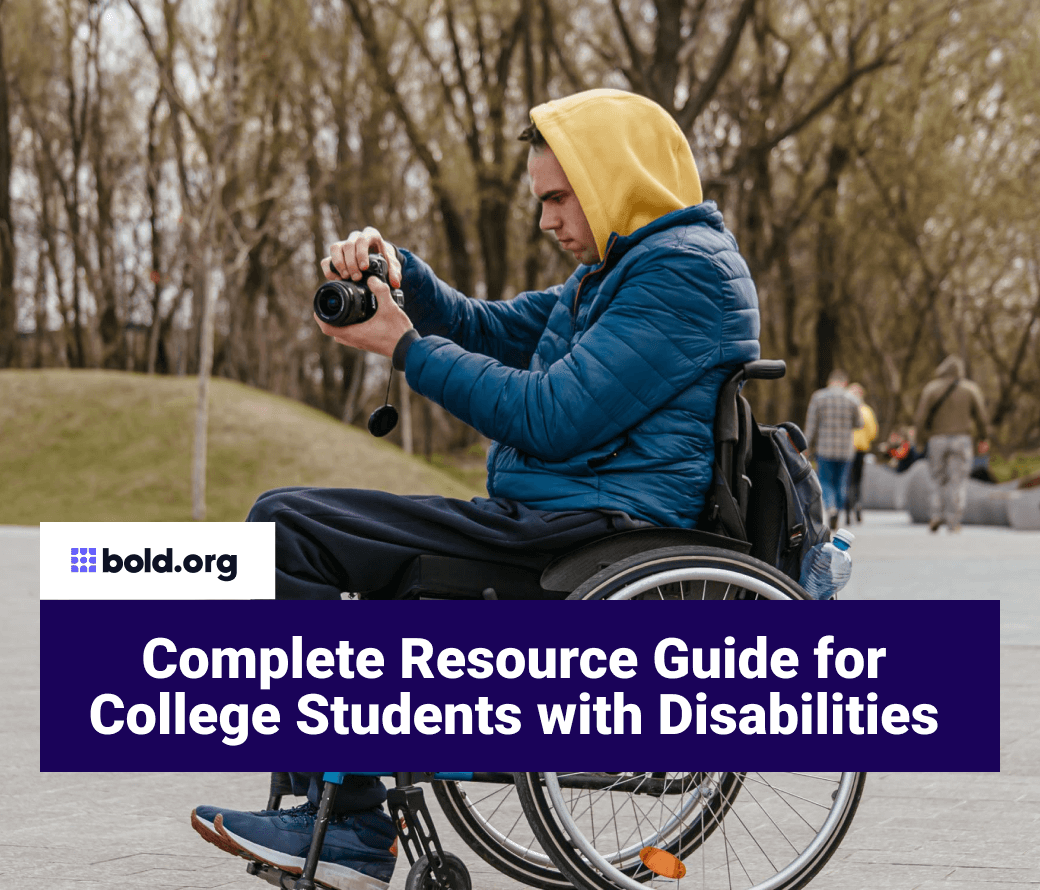 Top scholarships with upcoming deadlines
Prospective college students with disabilities may feel overwhelmed as they begin looking into their options as they navigate college life. Fortunately, there have been marked strides made with adaptive technology and legislative advances to support college students with a variety of disabilities.
Create a Bold.org profile and use the scholarship search feature to access hundreds of exclusive scholarships.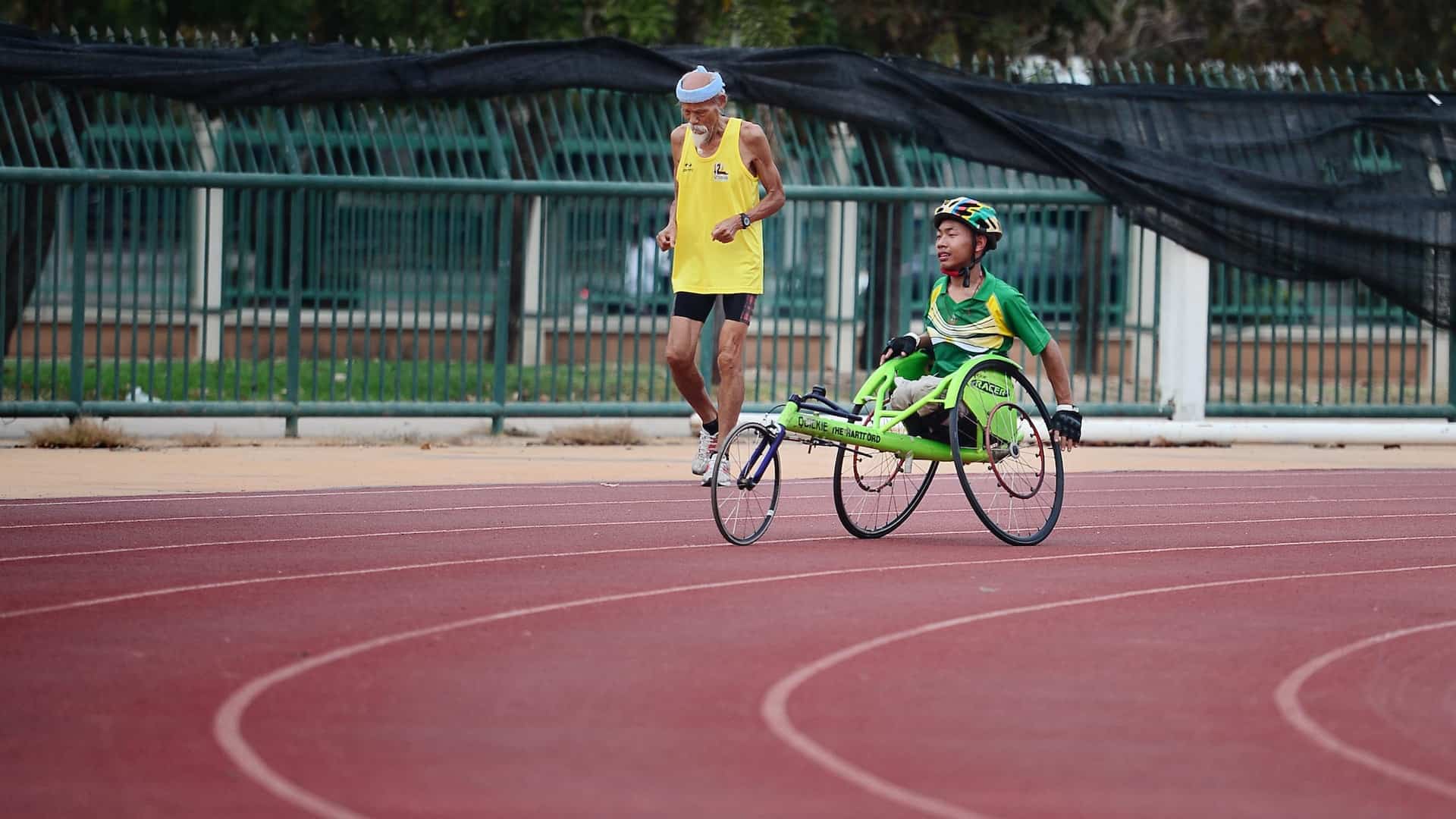 College Guide for Students with Disabilities
In the not-so-distant past, a prospective college student with a disability would have very limited opportunities to access the myriad higher education options to other students. Fortunately, there have been marked strides made with adaptive technology and legislative advances to support college students with a variety of disabilities.
From the legislative standpoint, there are two primary drivers of the aforementioned changes: Americans with Disabilities Act and Section 508 of the Rehabilitation Act. The Americans with Disabilities Act (ADA) is a broad-based civil rights law enacted to protect individuals against discrimination based on a disability. In fact, the ADA of 1990 provides similar individual protections as the Civil Rights Act of 1964 plus a requirement to make reasonable accommodations as well as accessibility requirements for public accommodations.
What is Section 508 of the Rehabilitation Act?
Section 508 of the Rehabilitation Act of 1998 serves to clarify and strengthen provisions already in place that govern access to information in the Federal sector. The law includes all types of electronic and information technology which includes the usage of assistive technologies.
Get Matched to Thousands of Scholarships
Create your Bold.org profile to access thousands of exclusive scholarships, available only on Bold.org.
Create Free Profile
According to the Department of Education, if a college or university receives federal funds under the Assistive Technology Act they are required to ensure that information and electronic technology be made readily available to persons with disabilities in compliance with Section 508.
The Assistive Technology Act was created to help promote access and awareness of assistive technology. In other words, the objective of the Tech Act is to provide a level playing field for all persons of all ages and abilities in the United States by employing assistive technology in education, employment, and daily activities.
In this article, we will be covering a variety of disabilities along with ideas and resources to help a student make the transition from high school to college as well as to help make the transition from college into the workforce.
Cross-Section of Student Disabilities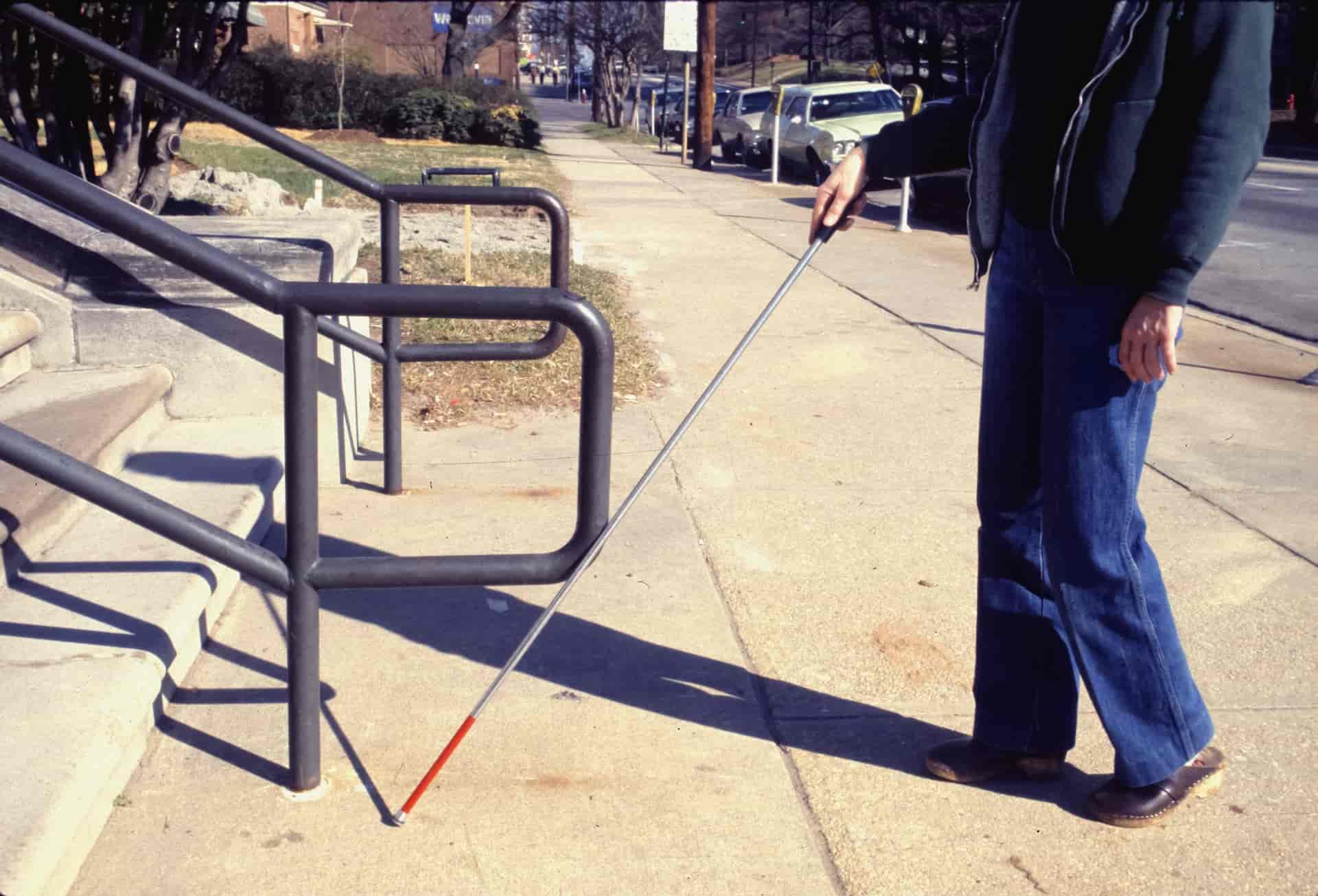 Visual Impairment
The Center for Disease Control and Prevention (CDC) defines visual impairment as the type of vision that cannot be corrected to a normal level. The types of impairments can range from loss of visual acuity to visual distortion to blindness.
There are an estimated 10 million people in the United States that are visually impaired or blind with approximately 10% of those under the age of 40.
Assistive Technologies for Students with Visual Impairment:
Important Resources for Visually Impaired Students:
Attention Deficit Disorder (ADD) & Attention Deficit Hyperactive Disorder (ADHD)
Both Attention Deficit Disorder and Attention Deficit Hyperactive Disorder are diverse conditions that can affect a person's ability to focus, mood, and ability to develop a variety of interpersonal skills. According to the National Resource Center on ADHD, approximately 11% of children are affected by this behavioral condition with nearly three-quarters extending from childhood into adulthood.
The College Academic Support organization has put together a list of questions to ask the college admission department along with a curated list of frequently asked questions for students with ADD and ADHD.
Assistive Technology for Students with ADD and/or ADHD:
Important Resources for Students with ADD and/or ADHD:
Cognitive Disabilities
The field of cognitive disabilities is a broad category encompassing various types of diagnosis including intellectual or cognitive disabilities, issues arising from brain injuries, learning disabilities, neurodegenerative diseases, and low-level deficits too mild to properly classify.
Cognitive disabilities or developmental delays can occur at any age. One of the most critical resources for a person with cognitive disabilities is a paucity of time. In other words, everything takes longer to process and complete which often leads to frustration and fatigue.
Assistive Technologies for Cognitive Disabilities:
Important Resources for Cognitive Disabilities:
Autism
Autism is a class of varied neurodevelopmental disorders that can adversely affect social, behavioral, cognitive, and communication skills. According Harvard Medical School, more and more students diagnosed with Autism Spectrum Disorder (ASD) are attending college than ever before. In fact, the Harvard Medical School whitepaper expects this trend to continue for the foreseeable future.
What is driving this trend of more students with ASD attending college?
A few factors seem to be coalescing together to drive this trend, notably the number of clinically diagnosed children in the last two decades coupled with adaptations made by colleges and universities.
On the demand ledger, the number of children and young adults diagnosed with ASD in the United States in 2000 was 1 in 150 and a few short years later it increased to 1 in 50. Inside these numbers, we can see changes in a few components increasing the prevalence of ASD which includes improved screening techniques, alternations in the diagnostic specifications, heightened awareness, along with improved tools for higher-functioning individuals with ASD.
On the other hand, higher education institutions have been working hard to improve the transition to college for students diagnosed with ASD and provide improved tools and better support systems while in college. The Journal of Autism and Developmental Disorders published a paper specifically related to the increase in college attendance following the completion of a nine-year longitudinal study. Data from the myriad ASD organizations point to an improved college campus engagement, reducing the stigma associated with autism, promoting self-advocacy, and systems to better reach students with ASD.
Assistive Technology for Autism:
Important Resources for Students with Autism:
Speech Disorders
The American Speech-Language-Hearing Association (ASHA) categorizes speech disorders into four primary categories: voice, stuttering, apraxia, and dysarthria. In a recent publication by the United States Department of Human and Health Services, approximately 8-9% of young children suffer from a speech disorder. By the time a child reaches the first grade, the estimated percentage of speech disorders drops to around five percent.
The frustrating aspect of a speech disorder is the fact that in many instances a cause is not readily known. Fortunately, we do live in an age where technology can detect variants in phonology, articulation, and intelligibility to diagnose and treat a wide variety of speech disorders.
Many colleges and universities have coursework like auditory systems disorders, language development, and auditory systems processes along with adaptive technology integrated into their programs to best serve individuals with speech disorders.
Assistive Technologies for Speech Disorders:
Resources for Students with Speech Disorders:
Hearing Impairments
The Better Hearing Institute has provided an outline of the differing types of hearing loss that include conductive, sensorineural, and a mix of conductive & sensorineural. Conductive hearing loss is defined as a condition or disease that interferes with the conveyance of sound through the middle ear cavity to the inner ear. On the other hand, sensorineural is essentially an inner ear or auditory nerve dysfunction.
A complete audiometric assessment may reveal damage to the Corti, specific nerve damage, and/or metabolic issues with inner ear fluid. The final type of hearing loss is a combination of the two aforementioned types of hearing loss where sensorineural is present coupled with conductive components through a portion of the audiometric range.
Hearing loss or hearing impairments currently affect approximately 15% of people in the United States over 18 years of age. In fact, the National Association on Deafness and Other Communication Disorders (NIDCD) produced statistics that reveal approximately 25 million adults in the U.S. suffer from tinnitus lasting five minutes or more. With the large numbers of individuals suffering from hearing loss or hearing impairments, it is interesting that less than 30% of adults older than 70 years of age have ever used a hearing device.
Assistive Technologies for Students with a Hearing Impairment:
Important Resources for Hearing Impairment:
Learning Disabilities
The Individuals with Disabilities Education Act (IDEA) defines a specific learning disability as encompassing one or more of the basic psychological processes involved in understanding or in using language, spoken or written, which disorder may manifest itself in the imperfect ability to listen, think, speak, read, write, spell or perform mathematical calculations.
The NCLD states in simple terms that a learning disability is essentially a neurological difference in the brain's structure and functionality that restricts the capability to receive, process, store, communication, and/or retrieve information. Well over half of the parents of children with learning disabilities surveyed have the expectation of their child(ren) attending college.
With some of the known challenges of helping students with a specific learning disability transition into college, it is highly important to set them up for success well in advance through research and great resources.
Assistive Technologies for Learning Disabilities:
Important Resources for Students with Learning Disabilities: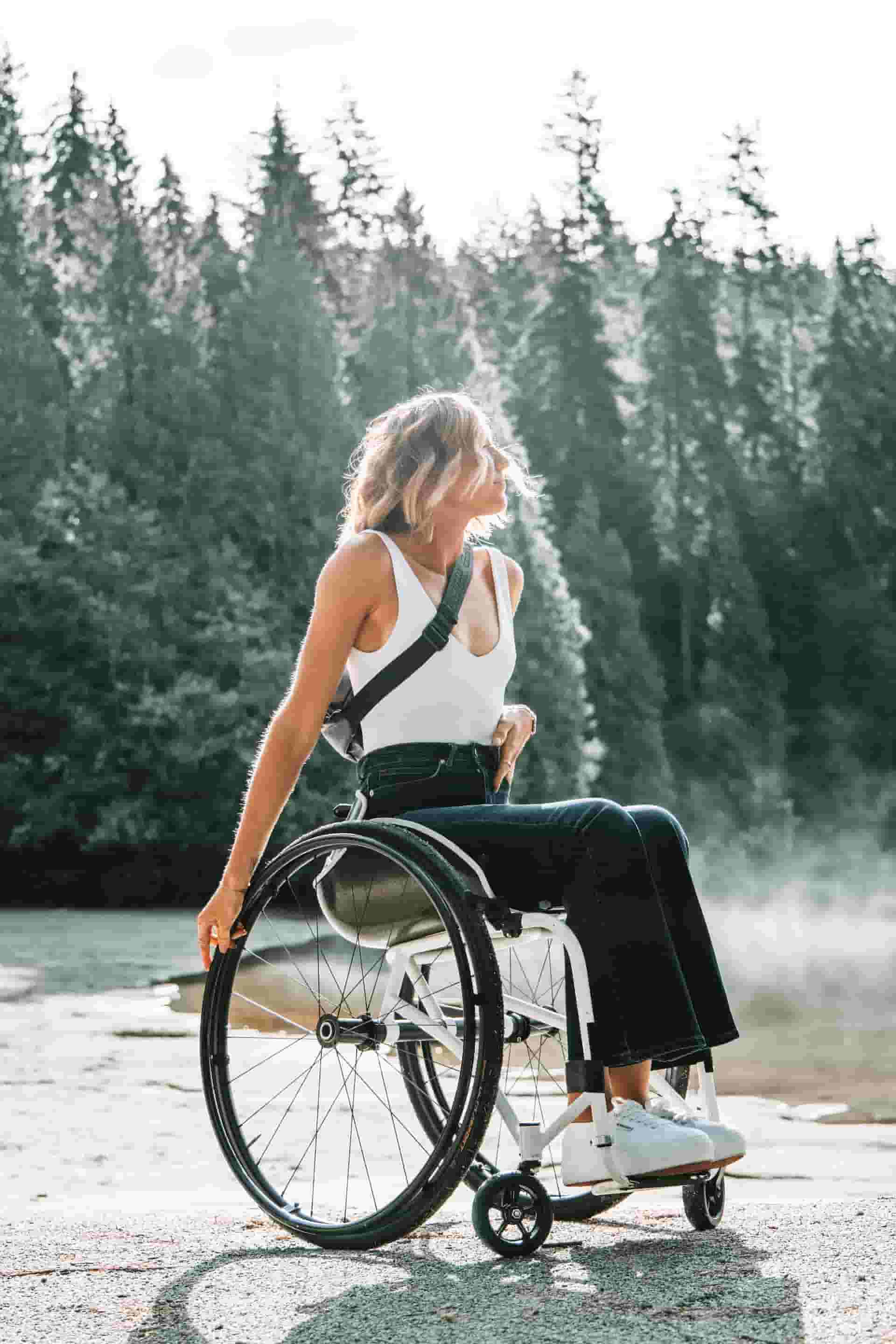 Physical Disabilities
A physical disability is defined as one that adversely affects dexterity and/or mobility. A person with a physical disability may require help or equipment to help them walk while others do not need assistance. To give an example, a person without an arm is physically disabled but does not require a medical device to help them with mobility while a person with a spinal cord disability will often need a wheelchair or similar device for mobility.
The National Educational Association of Disabled Students (NEADS) provides guidance for the various types of physical disabilities including: quadriplegia, multiple sclerosis (MS), paraplegia, hemiplegia, cerebral palsy, polio, dystrophy, and absent limb/reduced limb functionality.
Regardless of the type of physical disability, a college student of any ability should participate in a variety of social and academic settings to their best. As such, colleges and universities have myriad resources available for a variety of persons with physical disabilities.
Assistive Technologies for Students with Physical Disabilities:
Resources for Students with Physical Disabilities:
Navigating the College Transition with Disabilities
For people with disabilities, it is highly important to make life transitions as smooth as possible. When moving from high school to college, invest in yourself and research technology and resources listed above in addition to Going to College and AHEAD.
You will also want to keep an open line of communication with your advisor, counselor, and teacher to help with life's transitions. As part of your conversations with your advisor or teacher, you may find it useful to talk through adaptive technologies, course addends, modified examinations, interpreters, and priority registration.
As you look forward to graduation and beyond, plan on building bridges to community members and employers early in the process. People are always looking for great talent to add into their company and social circles. Networking effectively while in college can lead to long-lasting relationships down the line and potential employment opportunities.
Additional resources to help during your college to work-life transition phase include Youth Transition Services and the American Youth Policy Forum.
Scholarships on Bold.org
Here at Bold.org all scholarships are available to students with disabilities, and there are even scholarships available exclusively for students with disabilities. There are also scholarships available with a number of different requirements - such as academic achievement or what hobbies you have. Make an account and begin applying to scholarships now!